The Relay™ 6 Person Spa Pool
Dimensions
213 x 213 x 93.5 cm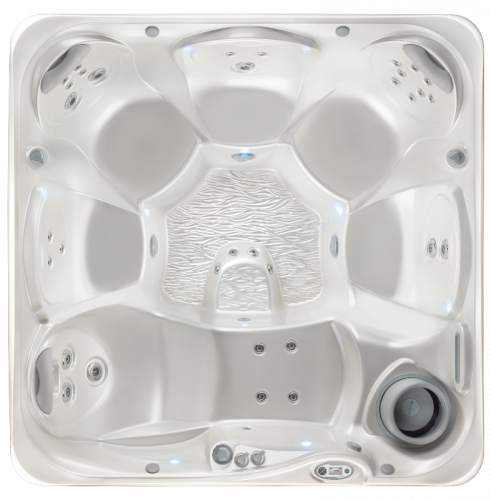 SilentFlo™
Circulation (Optional)
Cabinet
{{ this.active_cabinet.label }}
Shell
{{ this.active_shell.label }}
{{ getDisplay(point.value) }}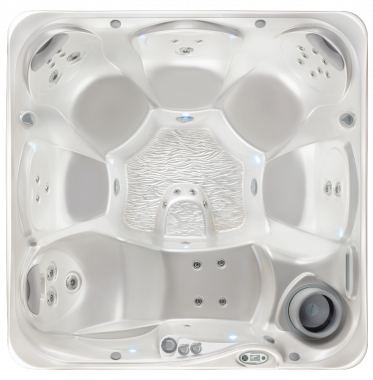 Directional Precision Jet
Soothe your entire back with these jets that deliver targeted therapeutic massage.

Rotary Hydromassage Jets
Ease any muscle tensions on your mid to lower back with a pulsating massage from these dual port rotary jets.

Directional Hydromassage Jets
Customise your massage, these unique jets rotate to give you soothing comfort exactly where you need it.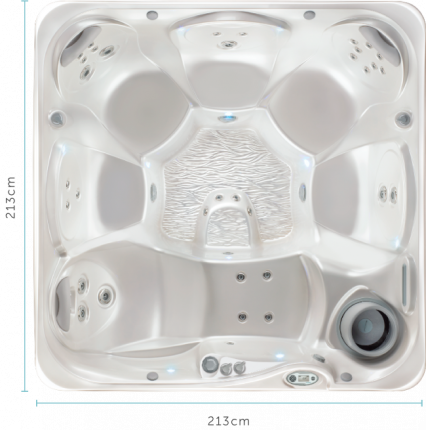 380 kg Dry
2,160 kg Filled*
10 multi-colour LED points of light, dimmable
Entertainment Systems
(Optional)
IQ 2020™ with LCD control panel
240v/15amp, 50Hz
Wavemaster® 8200
Two-Speed
2.0 HP, continuous duty
4.0 HP, breakdown torque
Wavemaster® 8000
One-Speed
2.0 HP, continuous duty
4.0 HP, breakdown torque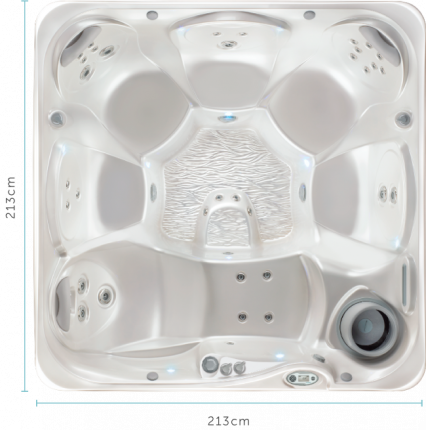 Freshwater III Corona Discharge (optional)
EverFresh® system with CD ozone (optional)
FROG™ system
Effective Filtration Area
9 to 6 cm tapered, 32 kg/m3 density foam core
CoverCradle®, CoverCradle II, Lift n'Glide® or UpRite®
Want to know more?
Contact us for more information:
"I cannot tell you the number of compliments we have received about its style, looks and those wonderful
Moto-Massage™ jets. Very quiet, and the minimum water maintenance surprised me. Best investment we ever made."
View all customer stories
5 Reasons to choose a hot spring spa

Energy Saving
Full-foam insulation and Energy Smart™ system for Super Energy Efficiency

Industry leading
ISO 9001 certification for Design and Manufacture of Portable Spas

Made in the USA
Our products meet the highest standards for safety, durability and quality.

100% Water Filtration
Exclusive no-bypass filtration system and Tri-X™ filters help keep water crystal clear

Easy Water Care
FreshWater™ Salt System ready for our best spa water possible with less effort