Experience the healing qualities of hydrotherapy, right in your own backyard. Once restricted to public pools, treatment centres or the mansions of the ultra-rich, Hot Spring's range of hydrotherapy pools bring the incredible restorative powers of warm, moving water to everyone.
Whether you're looking to recover after a hard day of activity, relieve aches and pains in muscles and joints or enhance your fitness through low-impact exercise, our range of hydrotherapy spa pools make these once exclusive treatments available to everyone.
What is a hydrotherapy spa pool?
Hot Spring's Endless Pools hydrotherapy spas are the evolution of hydro pools. Like a normal hydro pool, the Endless Pools range generates a current of water you can swim, walk or row against in order to recover from activity, treat chronic pain or enhance your fitness. Where a traditional hydrotherapy spa pool is a big, bulky, in-ground construction that often demands its own indoor space, an Endless Pool is surprisingly compact, incredibly cost effective, and can be positioned almost anywhere.
Measuring just 3.7m – 6.1m in length depending on the model, an Endless Pools hydrotherapy spa generates a constant current of water that you can swim, walk, run or row against (using the swim tether, built-in treadmill or resistance kit.) The current can be precisely calibrated to deliver the exact water speed you want, meaning our Endless Pools are perfect for everyone, from the elderly to Olympic athletes!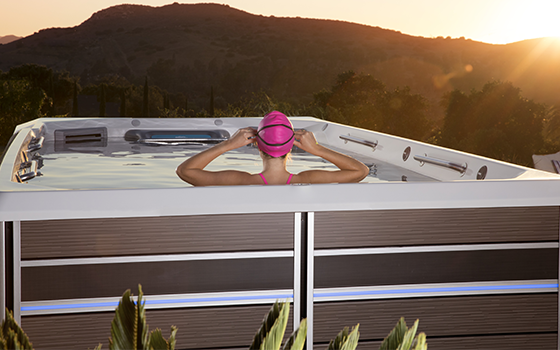 Benefits of a hydrotherapy pool
As a Hot Spring Endless Pools hydrotherapy spa delivers both remedial and fitness benefits, you have a physiotherapist and a personal trainer all in one. The benefits of hydrotherapy have been known since ancient times. The benefits include the stimulation of circulation to deliver nutrient-rich blood to the body, the loosening of tight muscles, the reduction of swelling, and taking of the weight off your joints to reduce wear and pain. The fitness that can be gained from a hydro pool can do wonders for your cardiovascular system.
Our hydro pools also offer tangible mental health benefits. The ambience of a spa pool has been proven to help your mental state by lowering stress and promoting relaxation.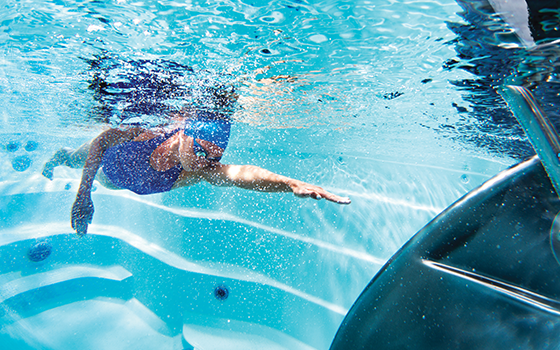 What conditions are treated with hydrotherapy?
The custom-made, hydraulically powered propulsion system of our Endless Pools creates a laminar current of up to 19,000 litres per minute. Wider than your body and deeper than your swim stroke, this current offers the most reliable and effective hydrotherapy experience on the market.
Endless Pools customers use their hydro pools for a wealth of conditions, including chronic pain, Parkinson's, musculoskeletal conditions like arthritis and fibromyalgia, neurological conditions, muscle spasms, cardiovascular and heart conditions, injury and surgery recovery and even paediatric conditions of young ones.
Hydrotherapy pool dimensions
While compact (2.26m wide and 3.7m – 6.1m long, depending on the model), Hot Spring's Endless Pools range is designed to be exactly that, endless. Through a clever propulsion system we deliver a consistent laminar current that will ensure you never hit the end of the pool, letting you enjoy uninterrupted exercise. There are two main varieties of hydrotherapy exercise: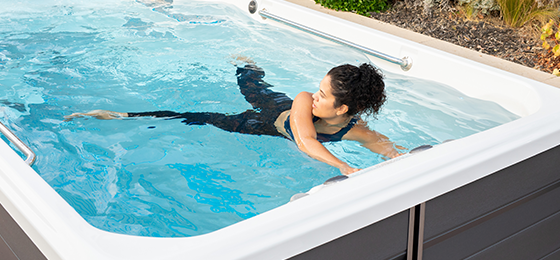 Static exercises
Warm up stretches, arm movements, leg raises, core exercises.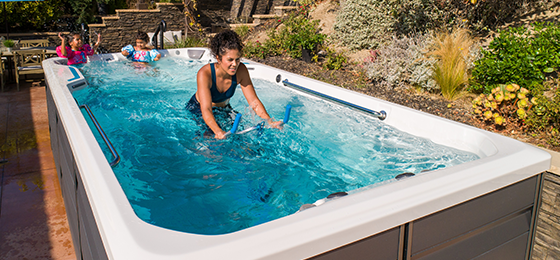 Moving exercises
Swimming, paddling, kicking, walking, jogging, rowing.
Every model in the Endless Pools range has been designed to deliver both static and moving hydrotherapy exercises. Each is big enough to move limbs without ever hitting an edge, while also being capable of delivering a consistent current for resistance exercises and therapies.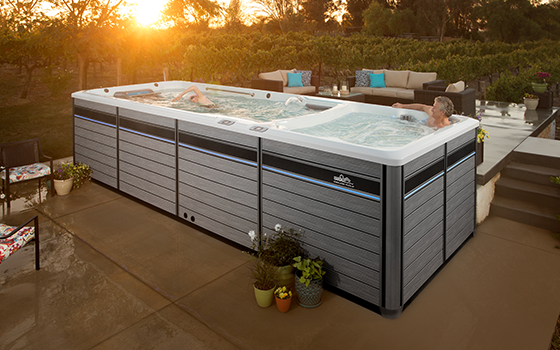 Hydrotherapy pool design
Bubbling with innovation for four decades, at Hot Spring we remain on the leading edge of spa and hydro pool design. Our hydro pools are designed for the ultimate hydrotherapy experience, whether that's delivered by our revolutionary moving massage jets while you sit, or by our hydraulic propulsion system that generates a steady current to move against.
Our hydrotherapy seating is where we made our name. Our Moto-Massage DX jet has revolutionised hydrotherapy, producing two strong streams of water that sweep up and down the length of your back, relieving aches and muscle tension while promoting wellness and relaxation.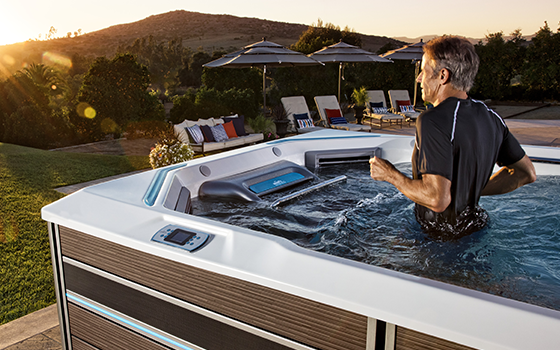 What is the temperature of a hydrotherapy pool?
All Hot Spring hydro pools can be precisely calibrated to your ideal temperature via an easy to use control panel – just choose a number and the spa pool will do the rest! The market leading insulation used in Hot Spring spa pools also ensures that heat is efficiently retained, resulting in far lower power bills than similar models from other brands.
Hydrotherapy is most commonly performed in 34°C water, as this temperature ensures that all of the benefits of warm water therapies are realised, without the water being too hot. However, the perfect temperature for you will be a matter of personal preference. We recommend starting at 34C and adjusting up or down from there.
More of a warm blooded creature? Our CoolZone System grants you the ability to cool your spa's water as well as warm it. Using CoolZone you can enjoy the perfect spa temperature and the benefits of hydrotherapy all year round, regardless of what the weather might be doing.
Hydrotherapy pool testimonials
Former Olympian Gideon Ariel on exercise and recovery