A Fitness Centre in Your Backyard.
Your Endless Pools® swim spa can provide a workout that's suitable for anyone, from an Olympic champion down to the novice swimmer. No crowds, no traffic, no wasted time – just fitness and what we like to call "aquatic wellness", steps away from your back door.
Aqua fitness is a great equaliser, able to be enjoyed by everyone from newborns to great grandparents. In Hot Spring's range of fitness-ready spa pools, the incredible perks of water-based fitness are now able to be enjoyed in the comfort of your own backyard.
Minimal joint impact. Reduced muscle soreness. The luxury of temperature-controlled water. Aqua fitness has a wealth of proven benefits, and in Hot Spring's revolutionary range of Endless Pools swim spas you can gain access to a variety of new, unique and incredibly effective modes of water-based exercise.
Whether you're looking to recover from an injury, improve your health through manageable cardiovascular exercise or even train for the next Olympics, a fitness spa can make exercise as comfortable or challenging as you need it to be! Thanks to Hot Spring's Endless Pools range, a once exclusive fitness tool is now available to everyone.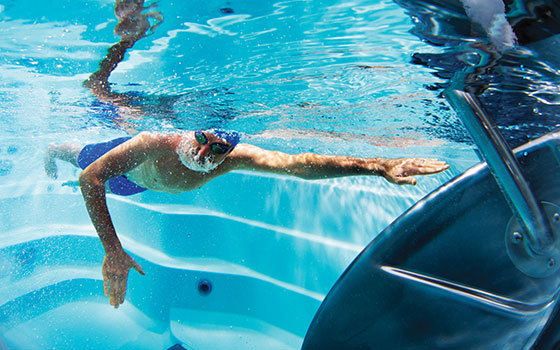 The Magic is in the Machine™
Designed more for those serious about fitness, the E-Series range is equipped with the revolutionary Endless Pools® Swim Machine propulsion system. Providing a smoother, more consistent current that spans the width of the pool, this type of water flow delivers a realistic feel, mimicking an actual pool or fixed body of water.
What is aqua fitness?
Hot Spring's Endless Pools® range brings aqua fitness to your backyard. A hydraulic propulsion system generates a strong and steady current of water which you can swim, walk, jog or row against. The current can be precisely calibrated to deliver the exact water speed you need, meaning Endless Pools are perfect for everyone from Olympic athletes to the elderly.
Aqua fitness can take many different forms. It can be performed in static water, through aqua aerobics, core exercises and stretching. Other exercises require either a large pool, or in the case of an Endless Pool, a machine generated current to work against, by swimming, walking, jogging or rowing. Along with the ability to generate a current, the Endless Pools Fitness System range offers a number of optional extras including a built-in treadmill, a swim tether and a rowing/resistance kit, giving exercise options that are almost as endless as the pool.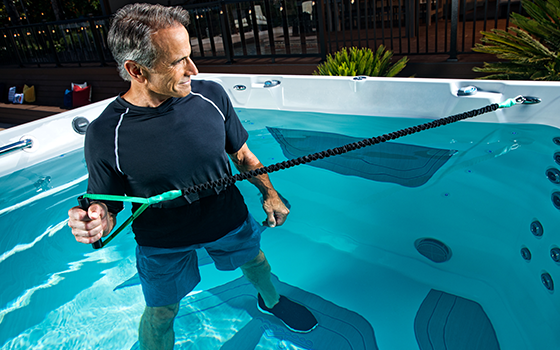 Aqua fitness health benefits
A pool and personal trainer in one beautiful package: the Hot Spring Endless Pools range delivers a wealth of fitness and health benefits. Many customers choose aqua fitness for the relief it offers aching joints and muscles. Others choose aqua fitness for the incredible workout delivered by swimming and water resistance training, as the conditioning that it can deliver is astounding. With enhanced fitness comes enhanced health – a fitness pool can do wonders for your cardiovascular system.
Our fitness pools also offer tangible hydrotherapy benefits, able to be used as treatment for a variety of neurological, musculoskeletal, cardiovascular and pulmonary conditions, as well as reducing chronic pain and speeding up rehabilitation. The ambience of a spa pool has also been proven to improve your mental state by lowering stress and promoting relaxation.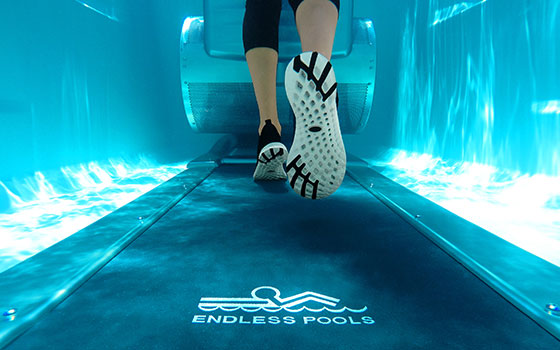 Underwater Treadmill
Optional – yet essential –the Endless Pools Fitness Systems hydraulically powered underwater treadmill allows you to vary the speed from gentle walking to an invigorating run. For a more challenging workout, turn on the swim current for resistance against your core, leg and upper body muscle groups. The underwater treadmill's low-impact running and walking options give you all the cardiovascular benefits without the bone-jarring effects often felt with land-based exercise.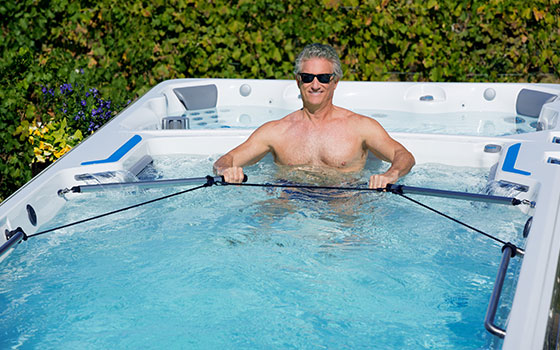 Rowing Machine
Expand the performance of your Endless Pools Fitness System with optional rowing a resistance gear. The row bars attach easily to built-in anchors and/or handrails and provide a low-impact, full body workout. Rowing is so beneficial because it keeps your heart rate elevated and focuses on core strength. Attach resistance bands to the sturdy handrails to increase the degree of difficulty.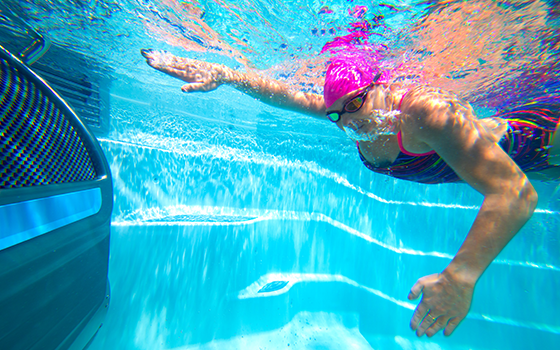 Is it good to swim every day?
All of the workout, none of the impact. Swimming does absolute wonders for your cardiovascular system and doing it every day helps to ensure that the benefits of aqua fitness are fully realised. What's more, unlike high-impact exercises, the buoyancy of water means that your soft tissues, joints and bones are given much needed relief.
In Hot Spring's Endless Pools swim spas you're granted the opportunity to enjoy a daily swim without leaving home. Our compact units have footprints of 14m² or less, meaning that they can fit on decks and in even the most intimate of backyards. Temperature-controlled water is generated into a consistent current, making this the most enjoyable swim you'll ever have!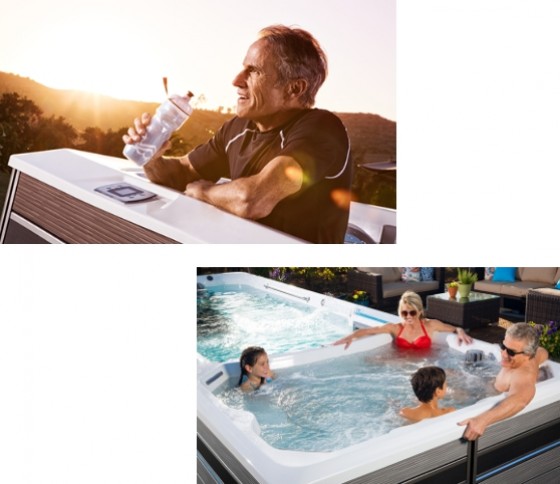 Who would enjoy aqua fitness at home?
Families looking to fit fitness into a busy schedule. People who have weight loss goals they'd prefer to accomplish in the privacy of their homes. Active seniors who value independence. Athletes needing low-impact training options. Kids who would benefit from workouts that disguise themselves as everyday pool parties.
All ages. All abilities. All stages of life. Having anytime access to a refreshing, stimulating and invigorating aquatic routine puts fitness within reach of so many people in so many ways. In short, home workouts with Endless Pools can benefit everybody and every type of body.
With a range of exciting accessories, Endless Pools customers are granted the opportunity to make their aqua fitness experience entirely their own. Optional exercise accessories include: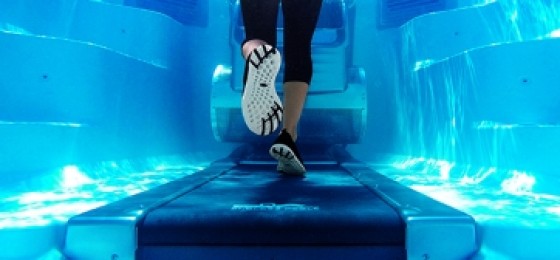 Underwater treadmill
A fantastic way to get active for those with aching joints and muscles, the underwater treadmill has a range of 0.16kph – 9kph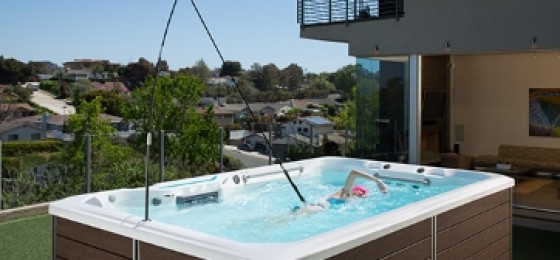 Swim tether
Use the swim tether to improve your swimming form by anchoring yourself in the middle of the current. Great for beginner swimmers or first time Swim Machine users!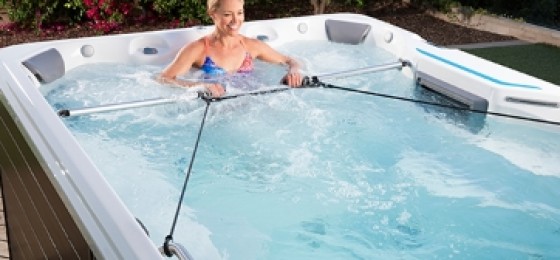 Row bar/resistance kit
Combining strength work and cardiovascular exercise, our row bar and resistance kit will have you working your entire body.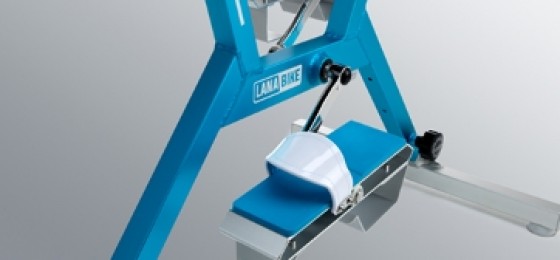 Water bike
Enjoy the challenge of having water resistance acting upon your legs while you ride. This unique workout will have you working muscles you didn't realise you had!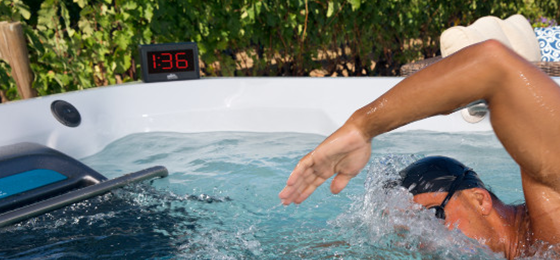 Pace display
Keep an eye on your performance with the heads-up pace display that tells you exactly how fast you're walking or swimming.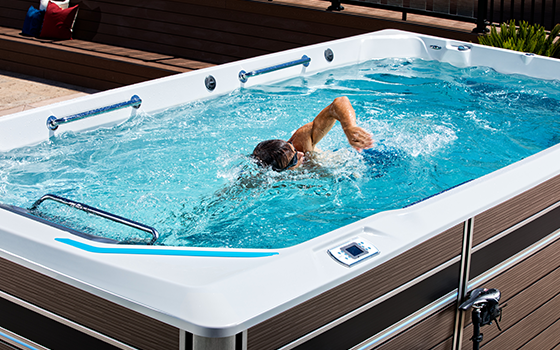 How long should you swim for cardio gains?
Swimming in an Endless Pools swim spa is a low impact but high intensity workout. What 'intense' means to you will depend on your level of mobility and fitness. A great place to start is a daily swim of 10-15 minutes at a leisurely pace. As you begin to build stamina you can slowly increase the current while adding five or ten minutes every few weeks. Eventually you'll be swimming for closer to an hour, and at a healthy pace!
With the ability to calibrate the current to the exact speed that suits you, an Endless Pools swim spa gives you ultimate control over your workout. Add in the convenience of being able to do this in your own back yard, away from the crowds and shared water of the gym or local swimming pool, and it becomes obvious why so many Kiwis are choosing to invest in an Endless Pool!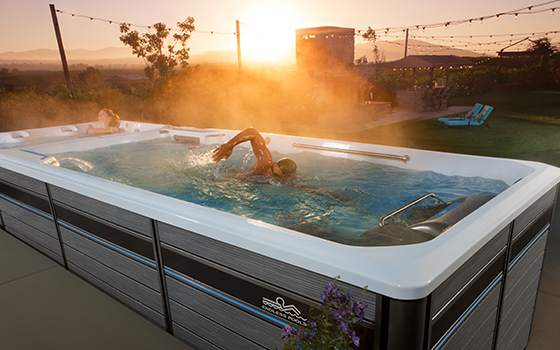 Swimming vs running
To swim or to run? It's a decision that many health-aware individuals have to make, and the answer will depend on your fitness goals. As far as burning calories goes, running has the slight upper hand: running at a good speed (10-12k per hour) will burn around 700 calories for the average person, while swimming at a good speed (50m/min) will burn around 550.
When you factor in the wear and tear of muscles and joints, swimming comes out on top. As a low impact exercise, swimming increases your stamina without sacrificing your body. Swimming is also better for building muscle.
Thanks to the Hot Spring Underwater Treadmill, you don't have to make a choice between swimming and running. This optional feature folds out from the front of your Endless Pool, allowing you to enjoy all the benefits of running without the high-impact pitfalls.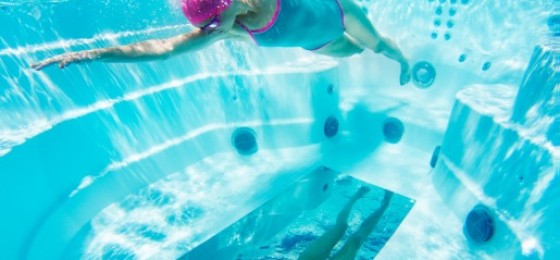 Underwater Mirror
Swimmers can see themselves swim in place and critique their form using the optional 24" x 51" stainless steel mirror. It can be easily placed on the floor of any fitness or exercise system (not recommended for fitness systems with underwater treadmill installed) and its weight distribution ensures it stays in place.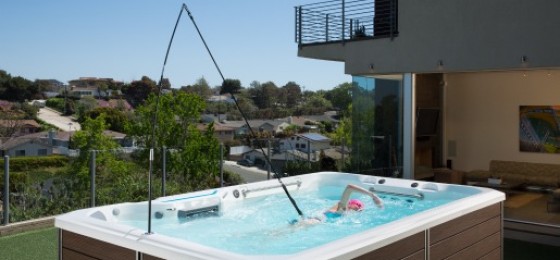 Swim Tether Set
All fitness and exercise systems come equipped with an anchor for attaching a swim tether, which is available as an optional accessory. It's a must for beginning swimmers or for anyone looking to improve his or her swimming form, by adding further assistance.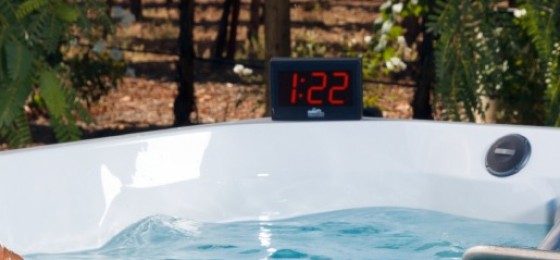 Pace Displays
The optional pace display is a necessity for any swim machine and/or treadmill user. It allows for easy reading of the swim current pace and/or treadmill speed during exercise and can be toggled from meters to yards or viewed as a percentage, from 0 to 100, of the total output usage. It's recommended that users have individual pace displays for their swim machine and treadmill to allow for use simultaneously.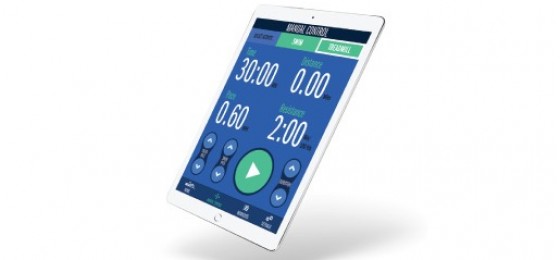 Fit@Home
The Endless Pools Fit@Home App allows you to control your Fitness System using any smart device. Easily set the pace and duration of the swim current, underwater treadmill or both!
Fit@Home also acts as a smart display allowing you to see your swim and treadmill speed and duration while you exercise.
Competitive swimmer puts Endless Pools Fitness System to the test