Repair, Restore, Regenerate, Revivify! If you have any aches and pains (who doesn't!) then help is at hand. Low impact activities in water can provide therapeutic relief, not to mention the freedom to pursue your fitness goals without the concern of causing increased pain.
The healing qualities of hydrotherapy, right in your own backyard. Once restricted to public pools, treatment centres or the mansions of the ultra-rich, Hot Spring's range of swim spas brings the incredible rehabilitating powers of warm, moving water to the masses.
Whether you're looking to recover after a hard day of activity, relieve aches and pain in muscles and joints, or rehabilitate from an injury, our range of Endless Pools swim spas takes once exclusive treatments and makes them available to anyone.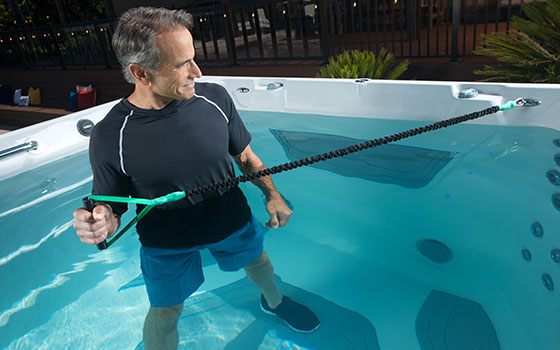 Therapeutic Relief for Aches and Pain
Your Endless Pools Fitness System is the sort of warm aquatic environment that can provide therapeutic relief for everyday or chronic aches and pains through low-impact activities. Utilising natural resistance, complete body workouts can tone and strengthen all your major muscle groups simultaneously and deliver great results with less impact on muscles and joints than walking or cycling.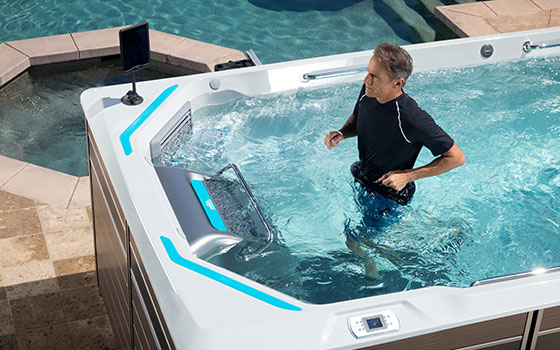 Resistance or Recovery
The beauty of training in water is that it can offer both intense resistance training from the opposition of the water against your legs and arms – just pump up your activity to get a high-intensity workout – or you can use the supportive buoyancy of water to reduce impact on your joints or aid in targeted muscle recovery.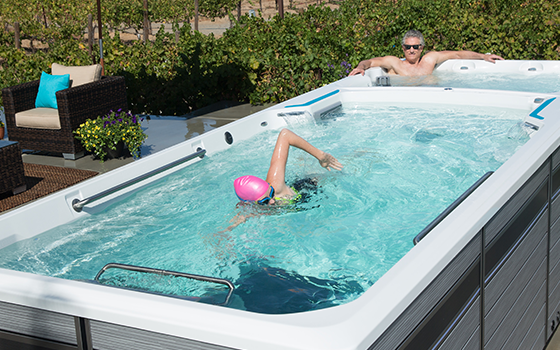 What is aqua therapy?
Hot Spring's Endless Pools swim spas bring aqua therapy to the backyard. Like a traditional hydrotherapy pool, these swim spas generate a current of water that you can swim, walk or row against in order to recover from activity, treat chronic pain or rehabilitate from an injury. Measuring just 3.7m – 6.1m in length depending on the model, an Endless Pools swim spa will fit in even the most intimate backyard. No more travelling and braving the crowds at the local pool – simply walk out your door and dive right in!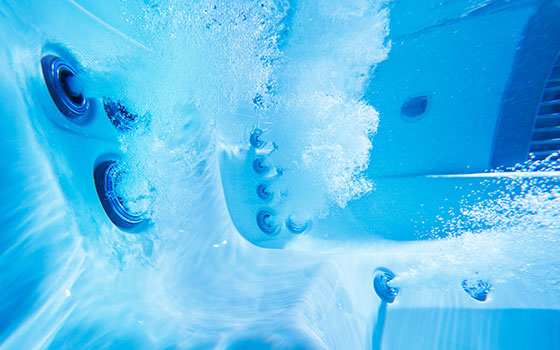 Massage away your worries
Warm water has been used as physiotherapy for decades. It can relieve muscle tension and soreness by assisting the reduction of lactic acid, it can help speed recovery from injuries, it opens the blood vessels to improve your circulation, it can relax the muscles around arthritic joints and it promotes the flow of endorphins. But a massage in your heated Endless Pools Fitness System goes one better. That's because, when combined with a moment of relaxation from the worries of daily life, hydrotherapy is also mentally therapeutic. Remember to speak to a medical practitioner before changing your health routine.
Aqua therapy testimonial
Born with an ultra-rare genetic disorder, Malachi Agnew has felt the healing power of hydrotherapy first-hand. A local of Whakatāne, Malachi's condition is defined by a number of symptoms, including migraines, scoliosis, epilepsy, asthma and pinched nerves. Previously reliant on five different pain medications, a Hot Spring spa pool has allowed Malachi to drop the meds completely. And along with treating neurological, musculoskeletal, cardiovascular and pulmonary conditions, reducing pain and enhancing rehabilitation, a Hot Spring spa pool can do wonders for your mental state.
The healing power of hydrotherapy
Watch Malachi Agnew's story