Perfect for all occasions, whether an intimate evening with a partner or a fun get together with friends, 5-6 person spa pools are amongst the most popular models in the Hot Spring range. These spas pack an incredible range of features into a medium-sized unit. They look great as the centrepiece of a garden or in the corner on a back deck.

5-6 person spa range
The Hot Spring 5-6 person spa range is made up of the following models: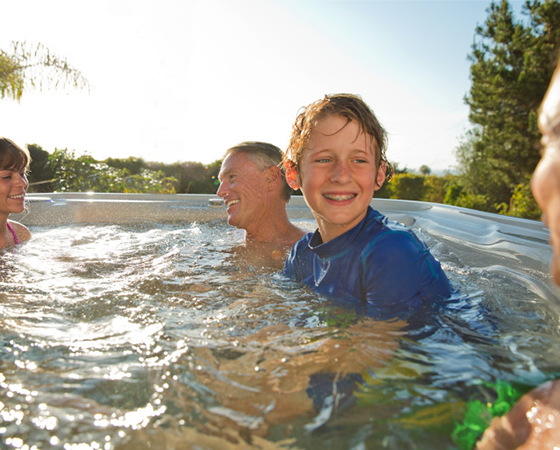 5-6 person spa dimensions
Neither the smallest nor the largest spa pools available, the Hot Spring 5-6 person range is the perfect size for anyone who wants to balance comfort, cost-effectiveness, intimacy and the ability to entertain.
Dimensions vary from spa to spa, but as a general rule 5-6 person spas measure between 2.15 and 2.36m in length and width, and between 84cm and 97cm in height. Any smaller will see you enter 4-person territory, and larger sizes are considered suitable for 7+ people.
To work out the ideal spa for you, consider:

The maximum number of people that will want to enjoy your spa at any one time.

The amount of space available.

How much you'd like to spend.
If you need further help in finding the right spa pool for you, speak to our friendly team, or consult our handy guide.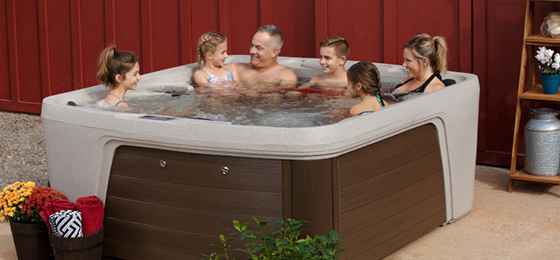 Benefits of a 5-6 person spa vs smaller spas?
A 5-6 person spa pool will be the obvious choice for many, but other buyers will ask themselves whether the added investment compared to a 2-4 person spa is worth it. Only you know whether choosing a medium-sized spa pool over a more compact version makes sense. It depends on your situation, but going larger brings some clear advantages:
More room means more comfort, particularly for anyone undertaking hydrotherapy, or households that are likely to have multiple people soaking at once.

The more the merrier! Larger spa pools are far better for socialising.
When should you consider a 5-6 seater spa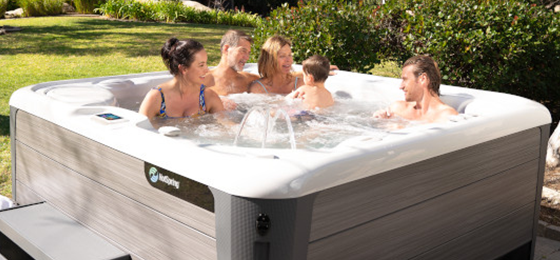 When you have a family
While smaller spas are great for couples and fine for small families, if you've got four or more members of your tribe you can't beat the space and comfort of a 5-6 person spa.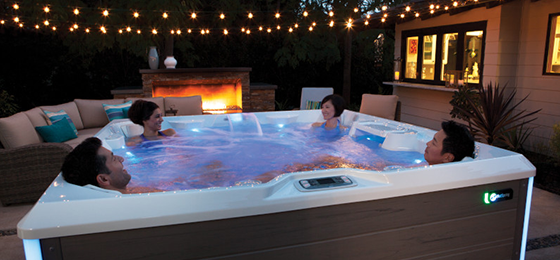 When you're renting out your holiday home
If you own a holiday home, whether in the mountains, on the beach or in the big city, a 5-6 seater spa is an incredible amenity to offer – you can expect your investment to be quickly returned through increased bookings.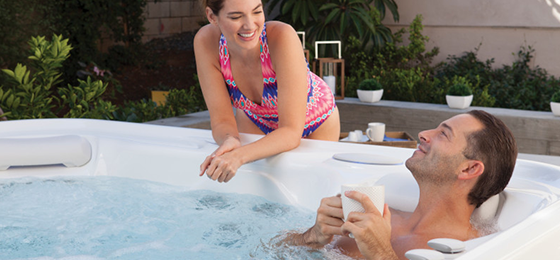 When you're in need of hydrotherapy
If you've invested in a spa pool for its therapeutic and healing qualities, a 5-6 person model grants you more room to move, making hydrotherapy easier and more effective.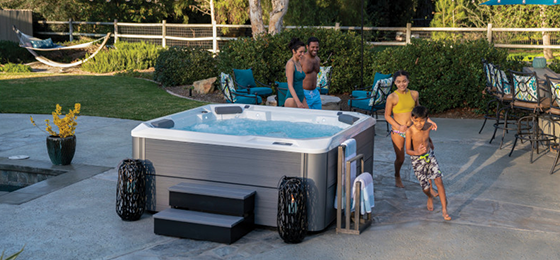 How much do 5-6 person spas cost?
The cost of your 5-6 person Hot Spring spa will depend on a variety of factors, including size, model, functionality, features and optional extras. Prices for Hot Spring's entry level 5-6 person spa pools start from as low as $9,900. Hot Spring spa also boast the lowest running costs in the world (independently tested and proven)! It's for these reasons that so many Hot Spring customers return decades later, to trade in their spa and upgrade the model.
Click here for a quote or contact your local dealer to arrange a test soak!
5-6 person Spa Testimonials
Love my spas - x 4
I bought my first Hot Springs spa back in the 80's. I purchased again in 1999, 2011, again when I moved to Las Vegas in 2019. I've only had Hot Springs because of the reliability, the energy efficiency and the warranty. I've had little problems with the spas but when I did the company stood behind the products, made the repairs, and if under warranty, no charge to me. We use the spa several days per week. Even in the summertime in Vegas I just turn the temperature down and it is a refreshing retreat and during the rest of the year, so nice. If ever considering purchasing a spa, get a Hot Springs Spa, you won't be disappointed.
William B
Quality that lasts
Congratulations Hot Spring. We just replaced our 1999 Sovereign with a 2019 Highlife Sovereign Spa. That's more than 19 years of use.
Mikey Bear
Why did we wait so long!
We had a Grandee many years back which lasted many years. We said if we ever redo the (back)yard we would get another Hot Spring spa.
Well this year we finished out new yard and bought the Vanguard. Why did we wait so long! It is fabulous and its not even the fall or winter season. My family and my GRAND KIDS love it.....
Best investment for quality.
Mr Supe