All Swim Spas are
not

created equal

"Swim spa" is the generic term for spa pools that incorporate some form of swim-in-place technology. But an Endless Pools Fitness System is really so much more…
The Magic is in the Machine™

The revolutionary propulsion system creates a laminar current that's wider than your body and deeper than your stroke

Aquacise

A variable speed treadmill offers low impact running or walking options and you can adjust the swim current to modify the challenge.

Family Fun

Swim, play or relax, there's room for everyone to join in the fun

Swimming

Even at full power, it feels like you're swimming in the smooth current of turbulent-free open water

Muscle Relaxation

To soothe tired muscles the water can be heated to 40°, up from your ideal swimming temperature, usually between 25° and 28°

Hydrotherapy

Loosen up after your workout or simply enjoy the benefits of hydrotherapy from powerful jets that provide a relaxing massage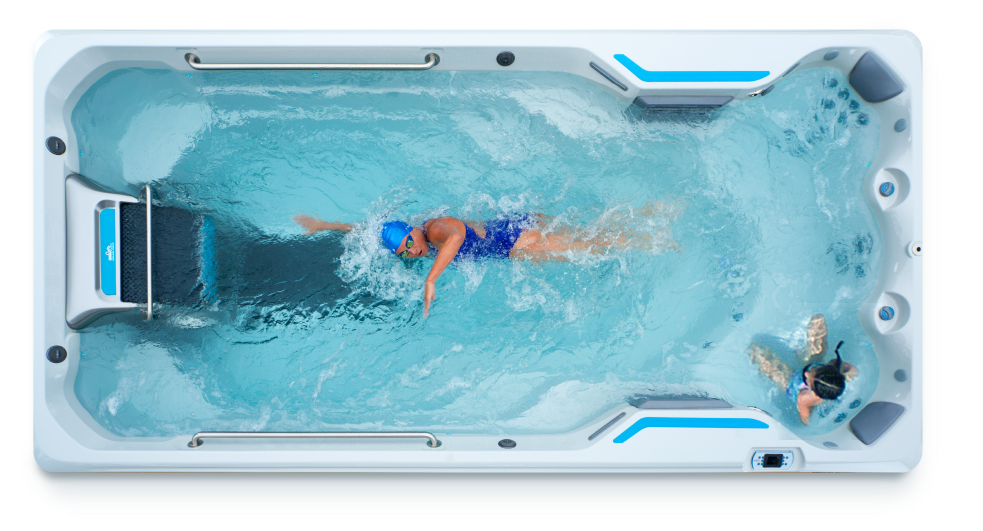 Filling the gap that has historically separated spa pools and traditional swimming pools, swim spas, like Hot Spring's Endless Pool range, are becoming an ever more popular option for Kiwi homeowners. These large spas create an endless current in order to deliver a swim-in-place experience, whether for fitness, therapy or fun!
Take a test swim
A vastly superior swim-in-place experience
The revolutionary Endless Pools® Swim Machine is a custom-made, hydraulically powered propulsion system - the ultimate in swim spa technology. As opposed to an average jetted spa with a current of just 2,000 to 3,000 litres per minute, the Endless Pools Swim Machine generates a laminar current, wider than your body and deeper than your stroke, of up to 19,000 litres per minute.
What's more, multiple conditioning grills smooth and redirect the water, resulting in a swim current that is free of turbulence. Even at full power, it feels like you're swimming in open water.
Change up your fitness regime with the underwater treadmill
Take fitness to new levels with the optional underwater treadmill. Speed can be varied from a gentle walk to an invigorating run or, for a more challenging workout, turn on the swim current to add resistance against your core, leg and upper body muscle groups.
The underwater treadmill's low-impact running and walking options give you all the cardiovascular benefits without the bone-jarring effects often felt with land-based exercise.
Looks good, feels good is good. (Great, actually!)
Enjoy backyard living at its finest with a pool, spa and fitness system all in one. Swim, relax, exercise, and enjoy increased quality time with your family and friends.
These beautifully sculpted spas, combining hydrotherapy jet seats, an underwater treadmill and the Endless Pools Fitness Systems unique swim current, can turn your home into an oasis for year-round exercise, relaxation and fun. No other pool offers such a complete solution for your health, wellbeing and enjoyment.
Take a test swim ›
Why choose an Endless Pools Fitness System Swim Spa?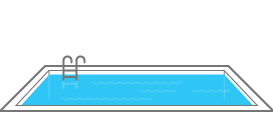 Swimming Pool
Convenience of swimming in your own backyard
Cost of installation – council consent, excavation, heating systems
Strict legal requirements
Small section present limitations to size of a pool
Limited Seasonal Use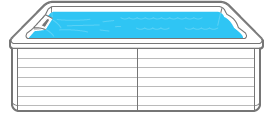 Swim Spa
Easy to install – minimal legal requirements with lockable cover and removable steps
Swim as far or as fast as you want without running out of space
All season use - adjustable temperature, ideal for year round use
Multi-purpose use – strong hydrotherapy jets
Portable – take your pool to your new location
Easy maintenance
Energy efficient
Swim spa heat and temperature settings
An Endless Pools swim spa gives you all the functionality of a swimming pool, with the added features usually found on a spa. Of all these added features, temperature control is perhaps the headline act.
Because of the sheer amount of water, it's costly to heat a traditional swimming pool. Swim spas are quite compact, allowing the temperature to be adjusted easily up or down as required.
This brings you, the owner, a wealth of benefits. Hot water immersion has been used for millennia to:
Lower stress levels
Improve circulation
Relieve muscle and joint pain
As the sports world has known for decades, cold water immersion is equally beneficial, working to:
Soothe tired muscles
Assist the body in healing itself
Offer instant relief on hot days
Unlike a normal swimming pool which is covered over winter a swim spa can be heated and enjoyed all year round!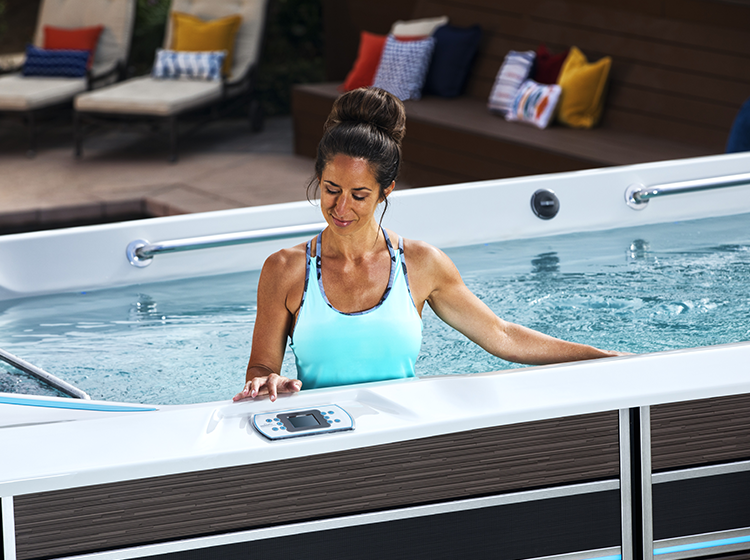 Endless Pool dimensions
Do you dream of swimming a few laps in your own pool every morning but assume you don't have the room? Good news: if you have got a backyard, you probably have room for an Endless Pool. With a range of sizes available, there'll likely be a swim spa to suit your space, no matter its size.
Endless Pools RecSport
R200: 3.66m (L) x 2.26m (W) x 1.27m (H)
R500: 4.57m (L) x 2.26m (W) x 1.27m (H)
Endless Pools SwimCross™ Exercise System
X500: 4.57m (L) x 2.26m (W) x 1.27m (H)
X2000: 6.10m (L) x 2.26m (W) x 1.47m (H)
Endless Pools Fitness Systems
E500: 4.58m (L) x 2.26m (W) x 1.47m (H)
E550: 4.58m (L) x 2.26m (W) x 1.47m (H)
E700: 5.18m (L) x 2.26m (W) x 1.47m (H)
E2000: 6.1m (L) x 2.26m (W) x 1.47m (H)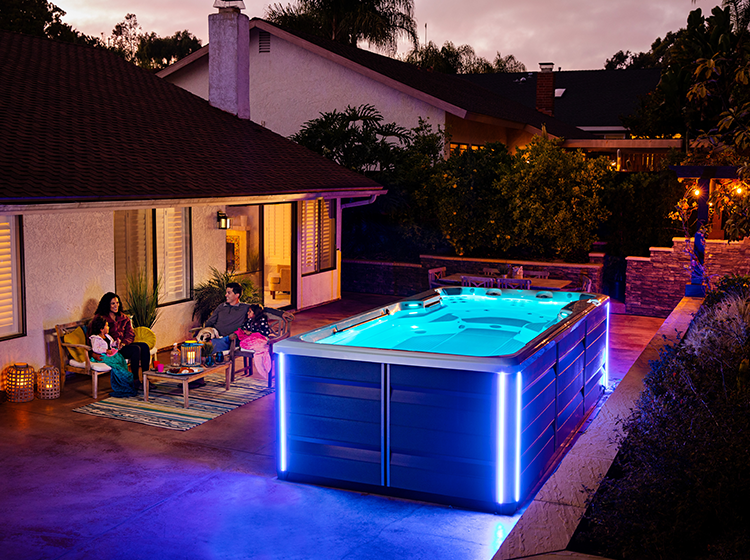 Endless Pool designs
Strong, beautiful and highly customisable, our Endless Pool design options mean that your swim spa can be anything you want it to be, an unobtrusive part of your backyard or the main event.
The design begins with a sturdy 2mm galvanised steel frame and ABS base pan which form the structure of the pool. Our Tri-Thermic Barrier System is a standard feature on all Endless Pools, providing three layers of insulation to conserve heat, enhance energy efficiency and greatly reduce running costs.
Your choice of cabinet and shell colours are then added, creating a pool that is stunning both inside and out. Whether you match your swim spa with your outdoor décor or create an eye-catching backyard feature is up to you.
Finally, the control and auxiliary panels are added. These are designed to make the operation and maintenance of your Endless Pool a breeze - you set the water temperature, adjust the interior lighting and control the hydromassage jets via an LCD screen.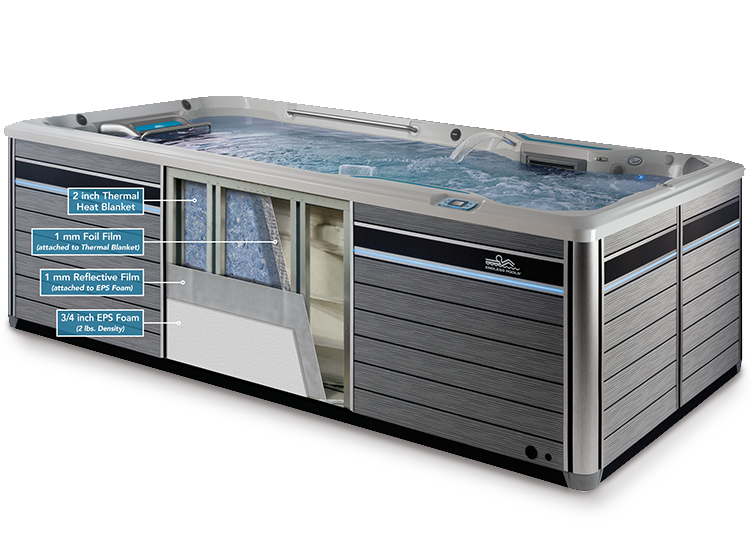 Swim spa installation
You've purchased your swim spa and like a new parent you're excitedly awaiting its arrival. How does the installation process play out?
Preparing the location: To make the installation of your new swim spa as efficient and cost-effective as possible, you prepare the location ahead of time. An Endless Pool must be placed on a level, even and structurally sound area that can comfortably hold the filled weight of the spa (including people.) A 100mm thick reinforced concrete pad and a deck certified by a qualified engineer are examples of suitable foundations.
Installation: Your chosen spot will need to meet the power, water and drainage requirements of your Endless Pool. If appropriate systems aren't already there, they will need to be installed. To gain access to the chosen site in your backyard, a gate or fence may need to be temporarily removed. The Hot Spring team will then ensure qualified and licensed professionals install the swim spa, making it ready for use as soon as they leave!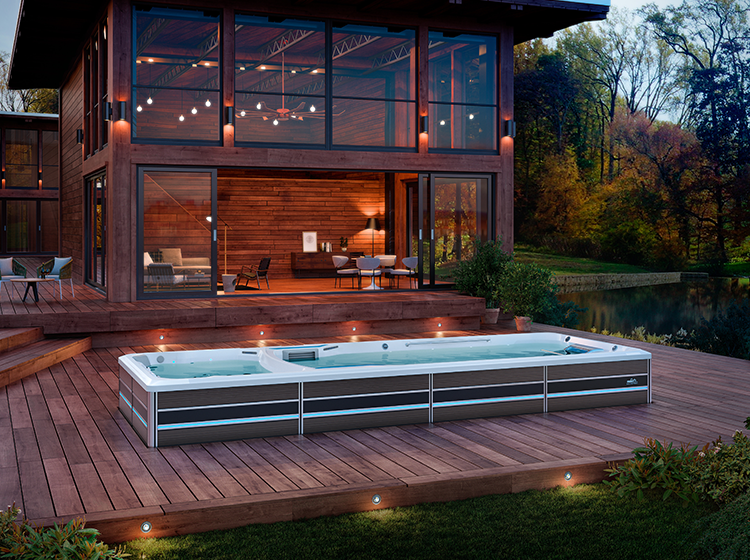 Are swim spas hard to maintain?
Smaller in size than a regular swimming pool, swim spas are relatively easy to maintain. The maintenance required for an Endless Pool will be something like this:
Water care: From 5 minutes per week to 5 minutes per month.
Filter care: 15 minutes up to 4 times monthly.
Draining and refilling: Ranging from fortnightly to yearly (if water is properly cared for.)
For more detail about Endless Pool maintenance check out our FAQ guide.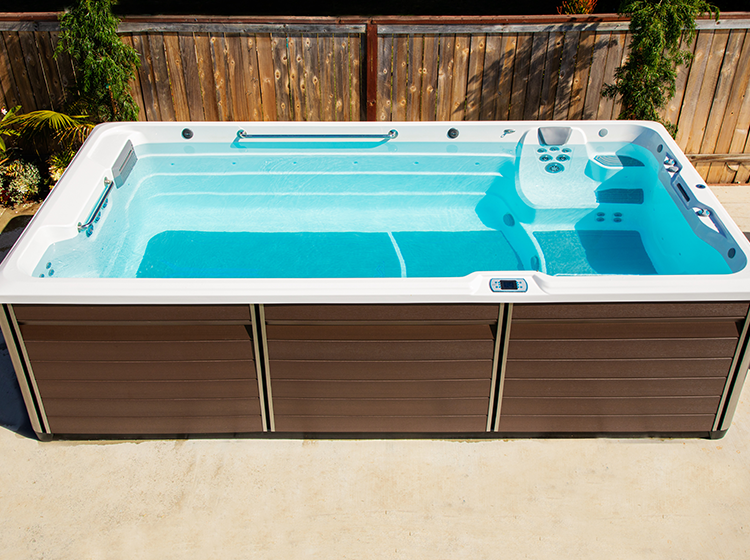 How much are swim spas?
While offering features and functionality far beyond that of a regular swimming pool, an Endless Pool can actually be far cheaper than a traditional pool, particularly when installation and maintenance costs are taken into account.
Engineering reports, foundation stabilisation, council consents, excavation, large water quality and heating systems, landscaping, pool fencing; many costs incurred by traditional pools often don't apply to swim spas. For less cost, you get greater functionality, with spa, hydrotherapy, fitness and entertainment options coming either as standard features or optional extras.
Given the range of models, sizes and available features, Endless Pool pricing can vary. Click here for a quote or contact your local swim spa NZ dealer to arrange a test swim!
Endless Pool dealers near me
There's nothing quite like seeing, touching and even soaking in a spa before you buy. Happily Endless Pools have a network of dealers up and down New Zealand, allowing you to do just that.
By heading to one of our many dealer locations, you'll be able to not only see our spas first-hand, but also book a test swim or soak. Experience the incredible service of our friendly staff, whose local knowledge will ensure that you choose the perfect spa for your situation.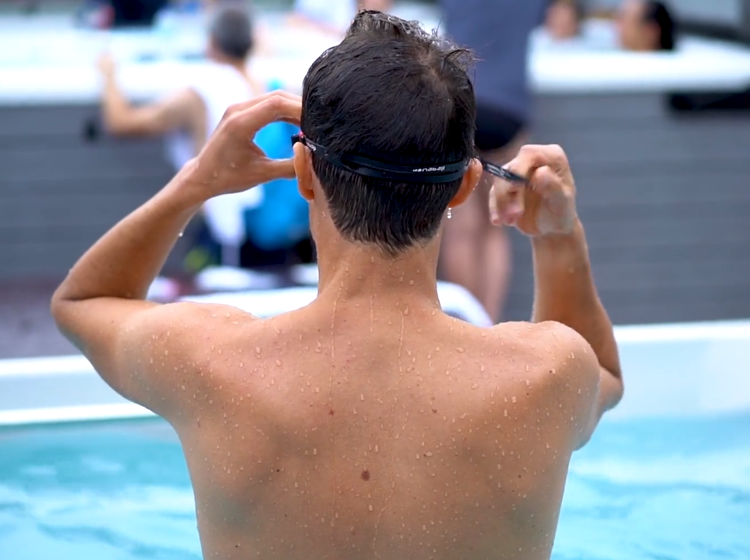 Endless Pools vs swim spas vs resistance pools
Many of our customers hear the terms 'Endless Pools', 'swimspas' and 'resistance pools' used interchangeably, and ask us what their differences might be.
The fact is that these three terms mean the exact same thing. Having established ourselves as a leader in swim spas, Endless Pools, while technically a brand, is now often used to describe any swim spa/resistance pool. Think of us like Hoover or Post-It!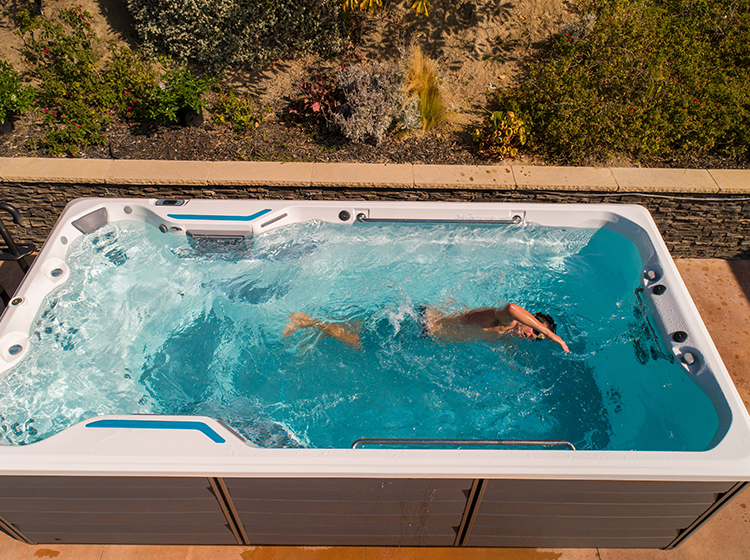 Swim Spa Testimonials
"Really happy with our swimspa. Very good after sales service. Big help when dealing with the Council. Thanks to the delivery team for a smooth installation."
Dene and Jeanne, Hawkes Bay.
Take a test swim ›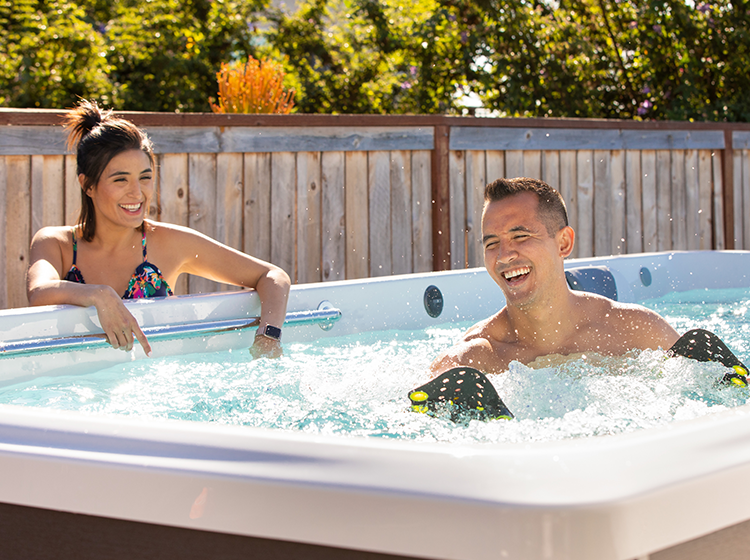 Introduction into Endless Pools® Fitness Systems & Swim Spas
Features & Highlights
Endless Fitness Systems Offer So Much More
Endless Innovations
Every day we focus on making the best even better, which is what makes the original Endless Pools Swim Machine unmatched in the NZ and global industry.
Learn more