Spa Pool Replacement Covers
Hot Spring Spas leads the industry in producing highly energy-efficient spa pool and spa pool covers
ENERGY EFFICIENT SPA POOL COVERS
Hot Spring Spas leads the industry in producing highly energy-efficient spa pool and spa pool covers. Our rigid, vinyl spa pool covers tightly lock in heat with 1.5 lb. and 2.0 lb. foam cores that increase the R-factor of the cover for additional energy efficiency. Our spa cover will save you money on your energy bill by holding in the heat. With a tight seal you will save money on your water bill as well since less water is lost to evaporation.
Contact Your
Local Dealer
Pricing can vary by location, so talk to your local dealer to get the best prices and options.
Find a dealer
Superior Spa Pool Cover Construction
One of the most important factors in the energy efficient design of your your spa pool is your spa pool cover. Hot Spring's spa pool covers are made from heavy-duty marine-grade vinyl. It also features a tapered custom-fit core that allows water runoff. A vapour barrier is created to protect the cover from hard New Zealand weather, chemicals and intense sunlight. This is made possible with high quality polyester thread and poly-ply laminates. Nylon flaps give the zipper extra strength, preventing it from breakage and tears.
Your spa pool cover require regular maintenance and should be inspected yearly for wear and to ensure a tight seal. Due to exposure to the elements, your spa pool cover will need to be replaced when it is time. How can you tell when it is time to replace your spa pool cover? Our Owners section can educate you about the proper care and maintenance of your Hot Spring spa.
Durable Spa Cover Design
Hot Spring spa pool covers are outfitted with exclusive, sturdy brackets for strong support and easy installation of our exclusive cover lifters. Each cover is made with double-stitched vinyl for a durable hinge and extra strong padded handles for long lasting performance. There are 24 internal stress points reinforced in each spa cover, including aluminum reinforcement for maximum strength and minimum weight. A spa pool cover lifter extends the life of your spa pool cover. Without a spa pool cover lifter, removing, storing and replacing the cover between uses becomes a chore and your spa pool cover can become damaged when placed on the ground, concrete patio or deck. This especially applies to larger spa pools. Opening and replacing the spa pool cover without a spa pool cover lifter can be a two-person job. With a spa cover lifter one person can easily open the cover, keeping it off the ground, and easily close the cover when they are finished with their soak. The cover lifter also frees time to double-check the cover is closed properly with a tight seal. With a Hot Spring cover lifter you are more likely to use your spa since the chore of opening and closing the cover becomes a non-issue. Since the spa pool cover will save you money on your energy bill it is wise to encourage people to remember to close your spa pool after each use by making it an easy operation. Remember that your spa pool cover also keeps debris out of your spa.
Safety Certified Spa Pool Cover
Reinforced, adjustable straps make it easy to safely secure the spa cover. Each Hot Spring spa pool cover is UL-classified in accordance with ASTM safety standards, and includes child safety locks for extra protection.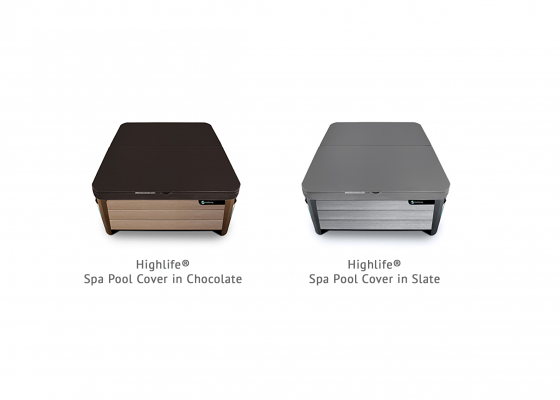 Highlife® Collection Spa Pool Replacement Covers
These covers are a custom fit for the Highlife Series spas. Available in Chocolate and Slate.
* Colours may appear differently on different devices - please consult your local Hot Spring dealer.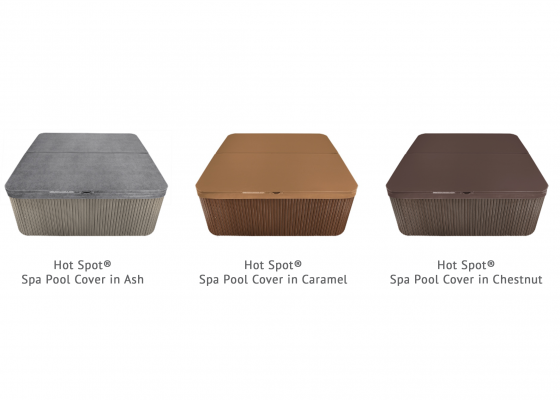 Hot Spot® Collection Spa Pool Replacement Options
These covers are a custom fit for the Hot Spot Series spas. Available in caramel, chocolate and slate.
* Colours may appear differently on different devices - consult your local Hot Spring dealer to verify colours.
Need more information?
If you have any questions about our spas or accessories,
your local HotSpring dealer is happy to help.
Find your local dealer