The Endless Pools® E-Series Difference
Superior swim-in-place
experience 
Underwater
treadmill option
Built with solid
and durable frames
Designed for performance, not to mention your well being, the revolutionary current-generator in the E-Series is the ultimate in swim spa technology. In fact, it gives you a swimming experience, free from turbulence, with a current of up to 19,000 litres per minute. (By comparison, an average jetted swim spa has a current of just 2 to 3,000 litres per minute).
View the Range
Endless Pools Swim Machine
The Endless Pools® Swim Machine is a hydraulically- powered machine that produces a laminar current wider than your body and deeper than your stroke. The multiple conditioning grills smooth and redirect water, resulting in a turbulence-free swim. The current pace is variable between 4:04/100 metres and 1:14/100 metres, remaining smooth even at full power.
Learn more ›
Underwater Treadmill
The underwater treadmill is a great addition for low-impact run or walk options, without harsh joint and muscle pressure. For a more challenging workout, turn on the swim current to increase resistance against core, leg, and upper body muscle groups. The pace is variable between 0.8 to 8.9 km/h.
Learn more ›
Hydromassage Jets
Distinctive hydromassage jets are perfectly positioned to target all areas of the back and legs, for an ideal cool down.
Bluetooth-Enabled Sound System (optional)
Integrated 8-speaker sound system, compatible with any Bluetooth®-enabled device.
2 mm Steel Frame and ABS Base Pan
Built on a 2 mm steel frame and ABS base pan, this is one of the most durable and reliable systems available. This standard feature provides superior support and protection from unreliable ground surfaces.
Exquisite Exterior Cabinet
The Endless Pools Fitness Systems cabinet is designed for durability and beauty. The look is contemporary and a beautiful addition to any home. Whatever your personal style – from traditional to modern – the timeless style of the Endless Pools Fitness System will blend in perfectly, giving the feeling as though it was designed specifically for your space. The rich finish creates a feeling of depth, yet the panels are smooth for minimal maintenance all year long.
The ultimate for wellness, fitness and relaxation.
Designed with your wellbeing in mind
The most recognised name in aquatic fitness, Endless Pools is the pioneer of swim-in-place technology. Tens of thousands of Endless Pools families worldwide, looking to improve their health and stay active, have trusted Endless Pools for the last 30 years.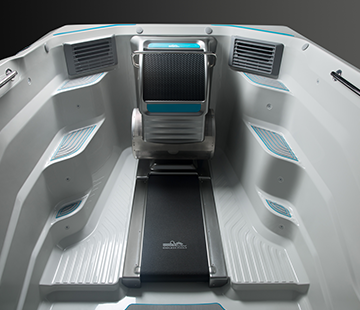 Shell Design
The Endless Pools Fitness Systems shell has a modern style with clean lines that flow gracefully from end to end. What makes this shell unique is how it is designed. There is ample space for your daily swim and workout, and water circulates with ease. It also looks stunning. When you immerse for your daily workout, entertain with friends, or just relax with the family, you want to enjoy a beautiful environment. We've taken that into consideration, and the result is a design that the most discriminating style enthusiast would embrace.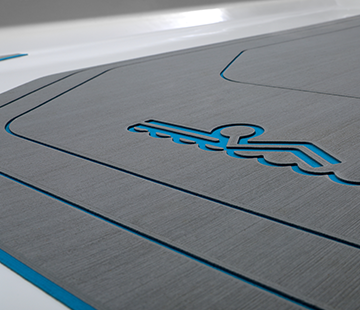 A Splash of Colour
Inside, the teal lines keep you centred in the swim lane. Outside, they elegantly accent the richer, organic tones.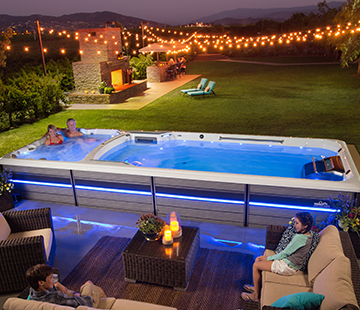 LED Illumination
Illuminate the night for a dramatic impact. The blue LED Perimeter Illumination beckons you to enjoy a relaxing dip after a long day while a 13cm main interior light and multi-colour LED points of light provide ample brilliance and beauty. The water feature is also backlit for added elegance.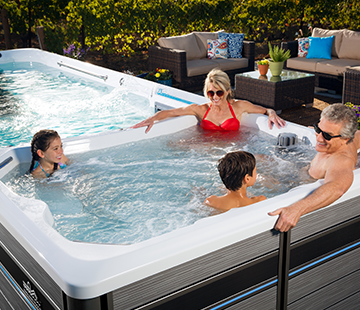 Hydromassage Spa Seating
After you exercise, enjoy a workout cool-down in the comfort of spa seating where hydromassage jets soothe your muscles. Perfectly positioned in two captain's chairs with pillows, plus a third middle seat, four jet types are combined in three configurations to deliver an ideal post-workout relaxation experience.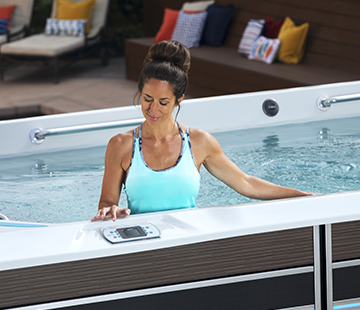 Control and Aux Panels
The LCD control panel makes it easy to navigate all the functions you need. You can set the water temperature, manage water care and control the interior lighting and hydromassage jets. Some Endless Pools® Fitness Systems models also include an auxiliary control panel, located on the opposite side from the main panel for added convenience when controlling lighting and hydromassage jets. Install the optional plug-and-play WiFi and Mobile App, and you'll gain full control of the system's temperature, lights and jets from any WiFi-enabled tablet or mobile device.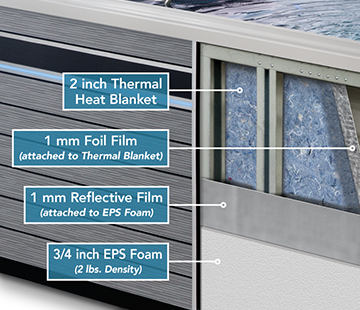 Water Care
Endless Pools Fitness Systems feature a dual water-purification that combines Ultraviolet C (UVC) with eco-friendly CD Ozone for crystal clear water with fewer chemicals than standard swim spas. In Endless Pools Fitness Systems, the continuous water rotation from the circulation pump, coupled with 19 sq. mtr. of filtration, ensures ease of maintenance for water that is always clean and inviting for you and your family. SwimCross Exercise Systems use the hydromassage pump on low speed with the same UVC Ozone system for regular water circulation and optimal water quality. *CD Ozone is used for water care on the spa side of the E2000.