THE LIMELIGHT® DIFFERENCE
Freshwater™ Salt
System Compatible
With elegant styling and exceptional performance, your Limelight Collection spa will quickly become a central hub of your home. Each Limelight® Collection model offers soothing massage, vibrant lighting, and exclusive features that make spa ownership easy. Plus, you can count on the quality you expect from a Hot Spring spa - so sit back, relax and enjoy.
Get a quote
Wireless Entertainment
Wireless entertainment adds another layer of enjoyment to your spa pool ownership experience. These are available as a factory installed option.
Bluetooth® Technology
Stream music and view from an online source or use your own music library. The choice is yours with our easy-to-use system featuring Bluetooth wireless technology delivering the ultimate listening experience while soaking.
High-Quality Sound
The sound system features a powerful amplifier and optional subwoofer, on some models for increased volume and richer bass tones. Marine-grade speakers can be installed in spa shell.
FiberCor™ Insulation
FiberCor™ is a fibre like wool that has some very smart characteristics like no other within the New Zealand market. Because of its loose composition when applied it gives a very even dispersion of insulation throughout the entire spa cabinet, it can also fill virtually any void or gap, and tough to reach plumbing areas and corners to ensure thorough insulation.
The FiberCor™ application is 4 x denser which results in lower spa operating costs. It is also environmentally friendly, so can be used and re-used again and again. It is already made up of 25% recycled content. It's mildew and mould resistant. There are no VOC (Volatile Organic Compounds) emissions or special disposal requirements therefore much a cleaner option to insulation than traditional spa pools in the market.
FreshWater™ Salt System
Your time is too valuable to spend it fussing with spa pool chemicals. The FreshWater™ Salt System is a breakthrough innovation that takes the guesswork out of keeping water clean, so you can spend more time enjoying your spa.
The spa pool water is sanitised with a titanium cartridge that automatically generates chlorine from salt. Simply set the chlorine output level with the touch of a button. The system operates through the spa pool's main control panel. Easy-to-read, on-screen messages take out the guesswork by showing you how everything is working and what adjustments might be needed.
Watch Now to Learn More ›
Silent Flo™ Circulation
A dedicated pump continuously circulates spa pool water 24 hours a day and uses less energy than a 40-watt light bulb. This eliminates the need to rely on high powered jet pumps to circulate water, reducing energy costs and wear on important spa pool components.
Contemporary European Style
The Limelight® Collection delivers exceptional quality, beauty and performance. The spacious interiors, geometric design and multi-colour points of light accenting the sculpted shells give the spas a modern flair. You can sit back and relax in the spacious seats knowing you have chosen the best - a Hot Spring® spa built for a great massage, low operating costs and easy maintenance.
These crisp lines and subtle contours offer a fresh approach to spa design and a look that reflects Hot Spring® quality and innovation.
Introducing the Limelight® Collection
Features & Highlights
Whether you prefer to soak at the break of day or under the milky way, time spent in a Hot Spring® spa will help enrich your life. With more visual appeal, design innovation and interior room than ever, our Limelight® Collection spas are ideal for starting or ending your day refreshed and renewed.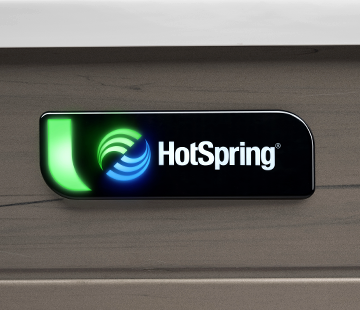 Ready, Set, Soak
Be confident that your Hot Spring® spa is hot and ready before you even step outside. The On/Ready indicator lights in the Hot Spring logo can be seen even with the spa cover on. These lights also serve as a helpful diagnostic tool letting you know when your spa needs attention.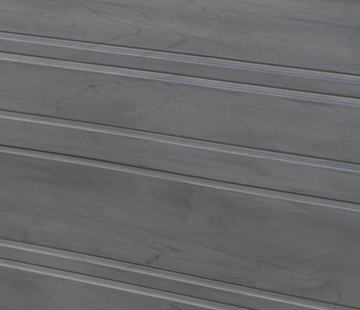 Three Cabinet Finishes
We pioneered the embossed wood grain look found on spas today and the Limelight® collection cabinet features our exclusive Everwood™ material built to deliver high style, low maintenance and exceptional durability. Choose from three colours which complement a variety of architectural styles.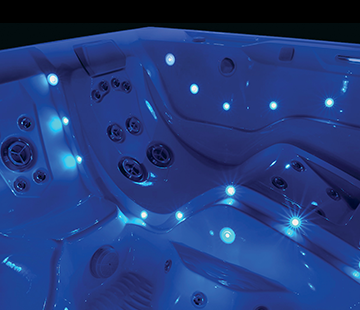 Match Your Mood
The interior lighting system features multiple points of light in a mix of three lends sized placed to accent the contours of the spa shell. Match the colour to your mood by selecting the hue and brightness of your choice or cycle through all six vibrant colours.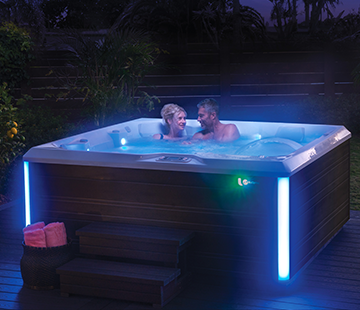 Exterior Lighting
There is nothing like exterior lighting to set the scene. Two exterior lights integrate with the front corners of the spa from top to bottom, creating an illuminated and elegant look that is unlike any other. With adjustable brightness and six colour options, the multi-colour LED lighting can be set to automatically turn on for four hours each evening.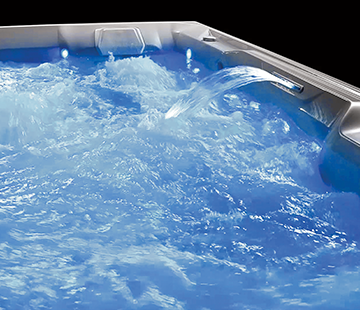 Ribbon Waterfall
The sights and sounds of moving water can be exceptionally calming and peaceful. Illuminated, water arcing in the spa adds beauty and ambiance to your spa soaking experience with the Vidro™ ribbon waterfall feature.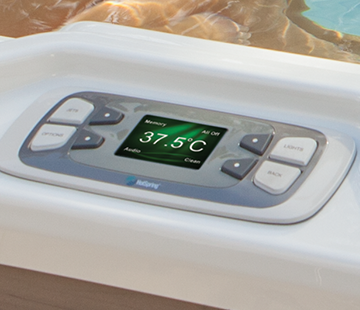 Smart Simple Operation
Adjust the jets, lighting, wireless entertainment and more with the IQ 2020™ spa control system - no programming required. Access the main control panel from inside or outside the spa. Choose your ideal water temperature, the "set it and forget it." Even after a power outage, your spa automatically resumes normal operation to your preferred settings.