THE HOT SPOT® DIFFERENCE
SilentFlo™
Circulation (Optional)
In-Line
Sanitising System
The Hot Spot® range of spa pools feature all the quality characteristics you'll find in a Hot Spring® Spa at exceptional value that suits your budget. Eye-catching design meets exceptional function with the addition of Fibercor™ insulation and Silentflo™ circulation to elevate your complete spa experience. Discover how a spa pool from the Hot Spot® collection can seamlessly add to the value and enjoyment of your home and outdoor living.
Get a quote
Hot Spot Gets Right to the Point
To create the ultimate spa pool experience, Hot Spot® spas offer just the right number of jets, configured to relieve the tension in your back, neck, shoulders, calves and feet and leave you feeling relaxed and refreshed.
The small directional Precision™ jets pinpoint specific muscles to provide relief precisely where you need it, while bigger jets offer broad massage great for larger muscles. You can adjust the strength of these jets to create a truly customised massage.
FiberCor™ Insulation
All Hot Spot spas use FiberCor™ insulation - a revolutionary innovation which delivers maximum energy efficiency. Loose, wool-like FiberCor fibres fill the spa cabinet to fully insulate the spa. FiberCor is applied at 32kg/m3 density level, four times more dense than the typical 8 kg/m3 foam used by most other spa pool brands. It is also recyclable and environmentally responsible.
Silent Flo™ Circulation
A dedicated pump continuously circulates spa pool water 24 hours a day and uses less energy than a 40-watt light bulb. This eliminates the need to rely on high powered jet pumps to circulate water, reducing energy costs and wear on important spa components.
In-line Sanitation System
The new 2020 Hot Spring Hot Spot models come with the bromine-based FROG™ system and is formulated to work effectively in warm water. The system is integrated into the shell of the spa where it works continuously. Rather than measuring out chemicals, you simply replace the cartridge that lasts for weeks or months. The cartridge has a dial that you adjust depending on how often you use your spa. Bromine is easier on the skin and the FROG system requires fewer chemicals, making it easy to use your spa as often as you want. Combine the FROG cartridges with the optional FreshWater® III ozone system for the most effective water care on Hot Spot spas.
Sleek Design
Designed to delight the senses, each spa features eye-catching finishes, dramatic LED lighting, sleek metallic corners, and distinctive design details. Subtly embossed cabinets evoke the beauty of natural materials with the durability of advanced composites. Choose from a soothing colour palette that follows current design trends and complements your indoor and outdoor space.
A large bartop, contoured seating, and integrated pillows complement the overall design for a unique and on-trend look.
Incredible Value
By choosing Hot Spot, you get a reliable, quality spa with special features that you will enjoy for years to come. We understand what you need in a spa pool, because we are passionate spa poolers ourselves. We know firsthand how spending time in a spa every day can rejuvenate your mind, body, and soul. Craftsmanship and long-term reliability, paired with daily enjoyment at a great price. That is the definition of value. That is Hot Spot Spas.
Wireless Music Systems
With integrated speakers so you can add music to your spa pool experience. Our wireless sound system with Bluetooth® technology allow you to transmit your favourite song to the spa from your Bluetooth-enabled device. Or, upgrade to our optional in-home dock to leave your device inside and enjoy music at the spa from almost any source in your home.
Introducing the new Hot Spring 2020 Hot Spot Collection
Quality, Performance and Value. Maximise Your Every Day.
Six Models. One Great Brand.
Our Hot Spot® collection models are designed with a full complement of features and enough space to accommodate two to seven adults. Eye-catching design, unique massage and trusted quality from the industry leader. Hot Spot Collection spas deliver confidence that your investment will help you maximise every day, for years to come.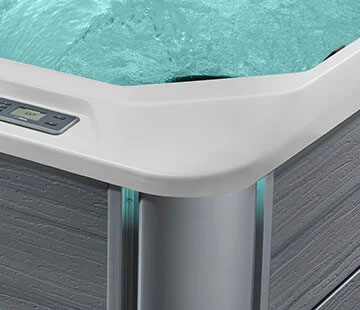 Accent Lighting
Create nearly any mood with up to 10 multi-coloured LED points of light in six colours. Four lights brighten the footwell, while six others above the waterline reflect off the surface and sparkle as the water moves. Display a single colour or a revolving display. A three-step dimmer controls the light intensity. Multi-coloured LED lights inside and out* accentuate the design of your spa. You set the mood with a three-step dimmer to adjust light intensity and the option to choose one color or a revolving display.
*Exterior lighting not available on SX and TX models.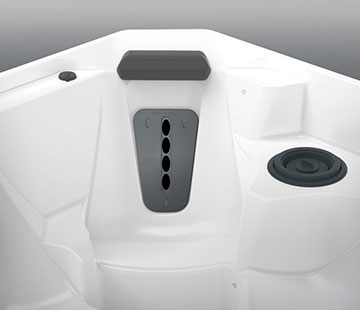 Exclusive Moto-Massage Jet
Exclusive to our Hot Spot® SX and TX models come with the patented Hot Spring® Moto-Massage™ moving jet. This revolutionary jet produces a warm stream of water that sweeps up and down the length of your back for an unparalleled hydromassage experience.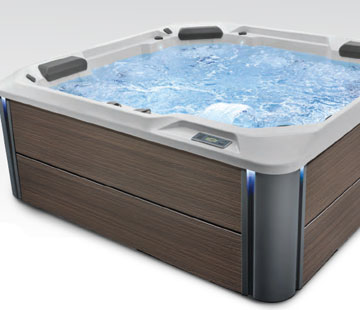 No-Fault Heater
Our proven, high-quality No-Fault™ heater is designed to maximise heat transfer, keeping the water temperature high and your electricity bill low. With a consistent water temperature you can enjoy a relaxing soak any time. The heater is backed by our exclusive No-Fault warranty, which has no exclusions even for water chemistry.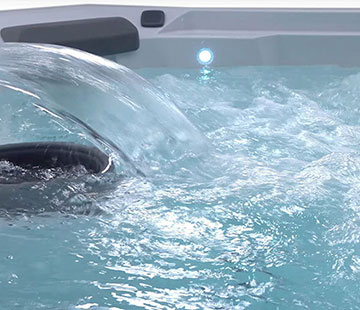 Soothing Waterfall Sounds
The Hot Spot® waterfall feature is both attractive and soothing. As you relax, you are treated to the meditative sound of gentle, cascading water. (Excludes Stride model)
Light your spa pool with a single colour or a revolving display of 6 colours to choose from.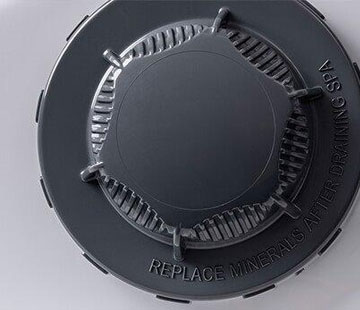 Easy Water Care
The FROG™ system is bromine-based and is formulated to work effectively in warm water. The system is integrated into the shell of the spa where it works continuously.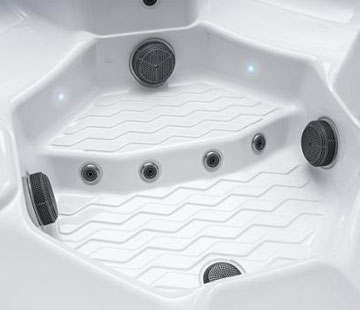 Maintenance Made Easy
A convenient floor drain means no bailing during scheduled water changes.*
*Available on 2020 models.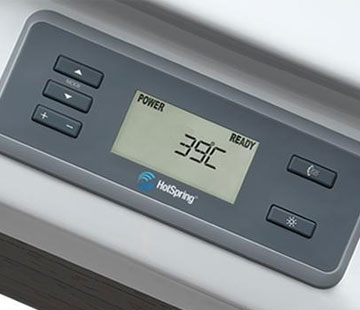 Simple Operation
Intuitive buttons and a large, easy-to-read LCD screen make it simple to use your spa.*
*Available on 2020 models.