The spa pool that your family can trust, and the one it deserves. With four decades of industry-leading innovation behind them, Hot Spring spas offer a wealth of family friendly features. Our extensive spa pool range will bring your tribe together, making memories and strengthening bonds, while also delivering an array of health benefits. With a Hot Spring spa pool you can add a sense of luxury and fun to your family time.

Why a hot spa is perfect for the family
Device-free, conflict-free, negativity-free. The tranquillity and relaxation of a Hot Spring hot spa means that you can enjoy family time of the highest quality, free from devices and other distractions. A spa pool brings your family together, getting everyone sharing, laughing and connecting in a way that happens less often in our disruption-rich and time-poor world.
This unencumbered family bonding benefits everyone: family members will enjoy a greater sense of stability, increased self-esteem and the ability to model a healthy lifestyle. Instead of you being connecting to the internet, your spa pool will have you connecting with each other.
Family hot spa range
The Hot Spring family spa pool range brings new levels of form and functionality. Stunning, modern and contemporary designs make the spa a feature of your backyard or deck, adding real value to your family home.
The beauty of a Hot Spring family spa pool is one thing – the performance is another. At Hot Spring we patented the world's first moving hydrotherapy jet three decades ago, and we haven't stopped innovating since. From Bluetooth speakers to complete swim-in-place and fitness experiences, the feature list of your Hot Spring spa pool can be as modest or as extravagant as you'd like
Family hot spa dimensions
No matter whether you've just welcomed your first child into the world or have a house full of fast-growing teenagers, it's important to find a spa pool that will suit your needs. At Hot Spring we boast a market-leading range of spas, with dozens crafted for family use.
The size of your spa pool will depend on the number of people you hope to fit in it at the same time. Dimensions vary greatly in our extensive range, from boutique three-person designs to our top of the range seven-person models. Our smallest family spa pools have footprints of around 1.5m x 1.5m, our largest traditional spa pools measure 2.5m x 2.5m, while our top of the range swim spas extend to 6.1m x 2.3m.
How much do family spas cost?
Bringing a wealth of health and financial benefits, a Hot Spring spa pool is an investment, both in your family and in your home. A high-quality hot tub that is seamlessly integrated into the look and landscape of your property can add real value to it, while also saving you money by enhancing your family's physical and mental health.
The level of investment that you'll make will depend on the size of the spa pool you choose, and the features that you and your family would like to enjoy. The Hot Spring range starts at as little as a few thousand dollars and has the added benefit of offering market-leading efficiency, seriously reducing ongoing costs.
Can children go in hot tubs?
Hot Spring spa pools have been designed with safety as the highest priority and are fine to use for anyone tall enough to stand on the bottom while their head is completely out of the water. This means that most models are safe for children as young as five years old.
For children who can't stand on the bottom with their head out of the water, supervision is advised. It is up to the spa pool owner to be mindful of the risks. At Hot Spring we also advise that young children should avoid spending periods of longer than five minutes in a heated tub, particularly those set to the maximum temperature.
Are hot tubs good for your health?
A hot tub is a tool that fits within the broader medical discipline of hydrotherapy. Warm water has been proven to soothe the human body in a number of different ways:

The heat widens blood vessels, assisting the body's circulation.

A hot tub's directional jets can enhance this flow further.
The warmth can loosen tight muscles and reduce swelling.

The buoyancy takes weight off your joints, reducing wear and pain.
While the health benefits of hydrotherapy are most commonly associated with the elderly, the truth is that young people can benefit just as much. Click here to read how a Hot Spring spa has changed the life of one young customer!
Do hot tubs relieve stress?
At Hot Spring we design spa pools that offer tangible mental health benefits. The ambience of a hot tub has been proven to help your mental state by easing stress and promoting relaxation. We further enhance the de-stressing qualities of spa pools through our market-leading hydrotherapy features, and the ability to pump relaxing sound out of in-spa Bluetooth speakers.
Combine this with the relaxation that comes from quality family time, and a Hot Spring spa pool can have an incredibly positive effect on your mental state. Your family can convene after a hard day of work and study, and soak all their stresses away!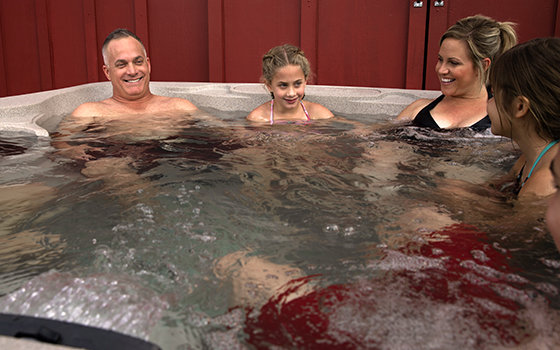 How many years does an outdoor hot spa last?
The longevity of your spa pool will be determined by its quality, the conditions to which it is subjected and your care and maintenance efforts. While a cheaper spa might be tempting, you may need to replace it multiple times to match the extended life of a higher quality model. By buying a Hot Spring spa pool, you can be confident that you've invested in a spa that will last.
As a ballpark figure, a hot tub can be expected to last anywhere from five years to 20 or more. A high-quality, sheltered and well-maintained tub will last decades, while a cheap, exposed and neglected tub might struggle to even reach the five year mark.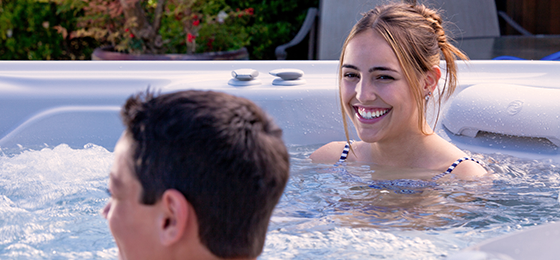 Quality - the reason behind choosing a Hot Spring spa
"The kids often invite their friends over and often, I've seen as many as 10 kids in the spa. They love it - they'll stay in all day!" Read more
Erin Santoro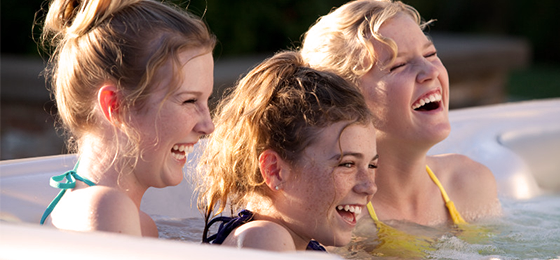 When a very active family of six want to unwind
"We're a very active family but our Limelight Pulse spa pool is just perfect for when we want to relax, unwind and enjoy family time." Read more
Carmen Goodyer
Explore Hot Spring's range of family spas
Building stronger family connections with a Hot Spring Spa