A lap pool, but not as you know it. In our Endless Pools swim spa range, Hot Spring has been able to condense the traditional lap pool down into a space-saving, money-saving swim spa that offers a superior experience.
There's a reason why lap pools are seen as the ultimate in residential luxury – they are expensive and need space… until now. With Endless Pools swim spas you can enjoy a lap pool that is infinitely long but that also fits neatly into your backyard or even onto your deck.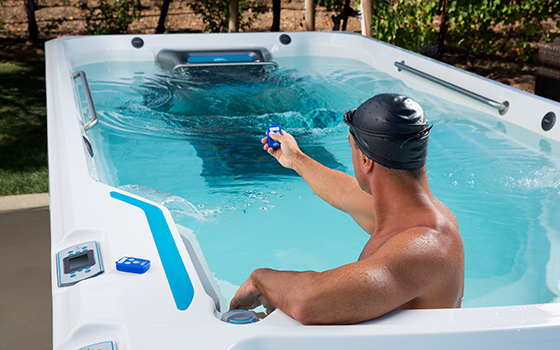 What is a lap pool?
An Endless Pools swim spa is the evolution of the lap pool. Traditionally, lap pools are long, narrow pools designed exclusively for fitness (rather than relaxing or socialising). They are generally 15 or more metres in length and 2-3 metres wide and are often positioned alongside, behind or even within the home.
Measuring just 3.7m – 6.1m in length (depending on the model), Endless Pools swim spas generate a constant current of water to deliver a swim-in-place experience. Unlike a traditional lap pool, no tumble-turns are required! You get a superior swimming experience while saving seriously on money and space.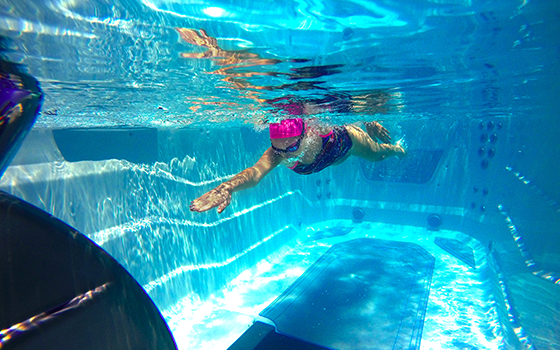 What is the length of a lap pool?
What is a good size lap pool? One that goes on forever! Through the clever use of currents, that's exactly what an Endless Pools swim spa delivers. In a unit measuring just 3.7m to 6.1m long, you can swim across the English Channel if you choose. And how deep is a lap pool? The answer is simply a depth that ensures you don't touch the bottom while swimming, but that allows you to stand comfortably, as our 1.2m – 1.5m depths do.
By comparison, traditional lap pools force you to compromise. In order to ensure that you can get into a rhythm, you'll ideally want to make your lap pool as long as possible, lest you take two strokes before needing to turn (lap pools are rarely shorter than 15m for this reason.) Increasing the length also increases the cost, and most people don't have the limitless space and budget to install a lap pool.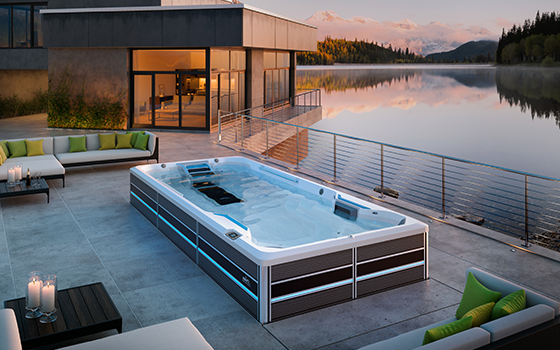 What is the cost of a lap pool?
Featuring cutting edge technology delivered in a beautiful and compact package, Endless Pools swim spas are the choice of everyone from casual swimmers to Olympic athletes. They use state of the art water-moving technology to generate a current that can be precisely calibrated to your swimming speed. Our top of the range models also include treadmill, water bike, rowing and seated hydrotherapy features, making an Endless Pools swim spa a complete health, fitness, relaxation and entertainment package.
The cost of all this innovation? Your investment in an Endless Pools swim spa will generally be lower than the investment needed to install a traditional lap pool, while delivering far more. A smaller body of water there is less cost to fill, heat and maintain the swim spa.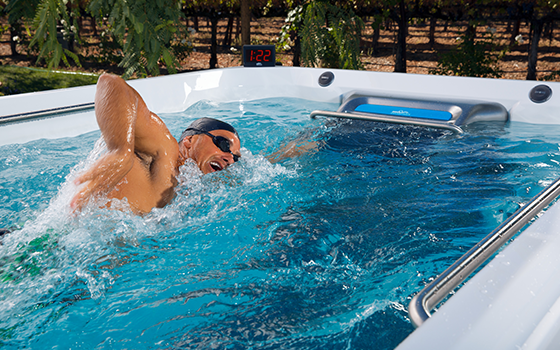 Lap Pools vs. Swim Spa
As the word has spread about Endless Pools' innovative swim-in-place technology, our swim spas have become the preferred training tool for many professional athletes and swimmers. They've recognised the benefits of being able to manipulate the current to set a swim speed, of enjoying a theoretically infinite stroke count, and of having all this in a cost-effective unit that fits comfortably in their backyard.
Far from being a tool used exclusively by professionals our swim spas have been designed for a wide range of uses and users. A gentle current offers those with limited mobility the opportunity to get active, with soft and buoyant water offering much needed relief to aching joints and muscles.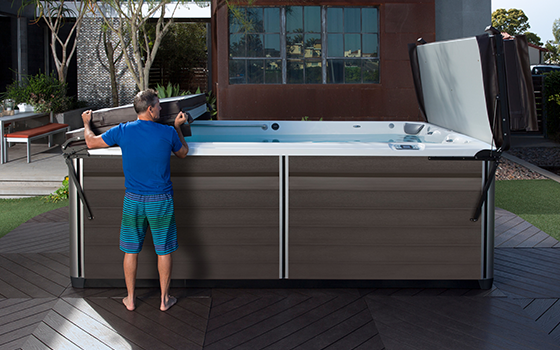 How much energy does a swimming pool use? An Endless Pools swim spa is far more energy efficient than a traditional lap pool. Swimming pool heating requires plenty of energy. Because our swim spas use a fraction of the water that a lap pool does, they use a fraction of the energy to heat. Our swim spas also feature thick insulation to ensure that warmth is retained. It should be noted that generating a strong water current requires a strong electrical current, so an electrician should ensure that your swim spa has the power it needs.
"How can I lower my electricity bill with my pool?", you might ask. Our advice: First buy an energy efficient Endless Pools swim spa, then install it in a sheltered area and use a cover to trap the heat.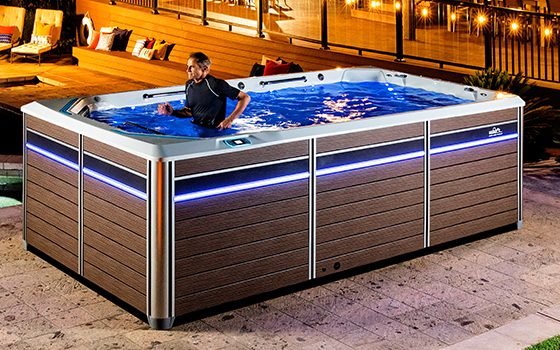 Installation of a lap pool
Because it involves inspection, design, excavation, construction, filling and treating, the installation of a lap pool is a costly and time-consuming task, generally taking a month or more from start to finish.
Like a lap pool, Endless Pools swim spas can be installed outdoors or inside, in- or above-ground. Unlike a lap pool, a swim spa gives you the option to install in existing rooms, in corners, and in small private spaces – as long as the space fits the footprint of your chosen model, you can be confident you have enough room! Many of our customers even choose to install their swim spa themselves. All our pools are free-standing, and assembly takes a matter of days.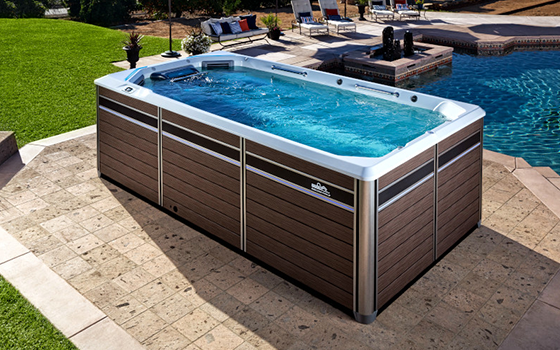 Maintenance of a lap pool
The maths is quite simple: more water requires more maintenance. You use more chlorine to ensure your pool stays crystal clear, and spend more time balancing pH levels. You spend longer cleaning in and around the pool. You spend more money filling it and heating it. Compared to swim spas, lap pools are far more costly and time consuming to maintain.
Keeping the water in an Endless Pools swim spa clean and clear takes just minutes a week. State of the art filtration systems and smaller volumes of water make for simpler, faster and more affordable pool maintenance, all while delivering an endless swim in the comfort of your own back yard.