Freeflow Spas® Pool Collection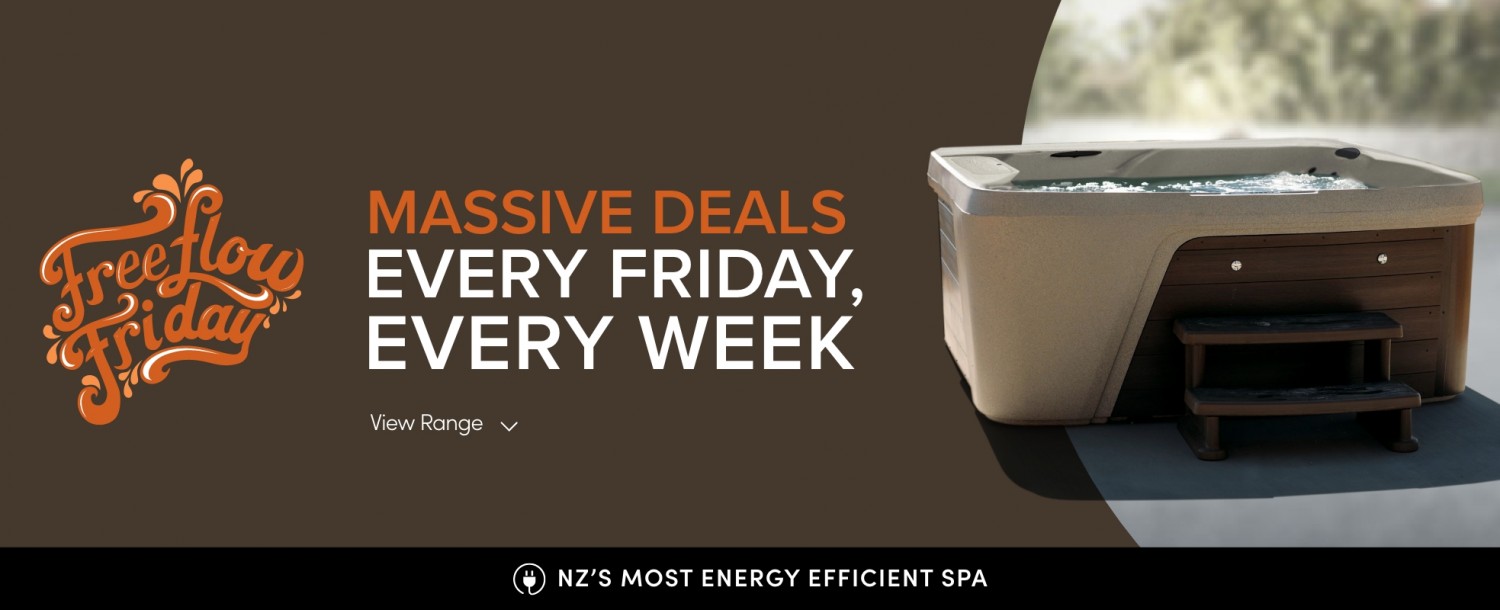 The Freeflow Difference
Thanks to our unique PLUG and PLAY technology, Freeflow Spas do not require any additional wiring or plumbing. Simply set it in place, fill it up with a garden hose and plug it in to any standard 240v, 10amp outlet. Then just set the temperature and once it reaches the desired level, you can begin enjoying your new spa pool.
Get a quote
The Lowest Running Costs, Independently Tested and Proven
The cost of running a spa pool can be significant unless you choose Hot Spring. We offer New Zealand's most energy-efficient spa pools, with running costs as little as $1 a day. This is a luxurious soak that won't cost the earth.
How can such luxury come so cheap? Our insulation is carefully designed for maximum heat retention. Our covers are fully insulated and precisely engineered to form a perfect seal around the lip of your spa.
Then there's our suite of technological innovations, from heat induction jets that recycle the warmth generated by the internal machinery to our SilentFlo 5000 circulation system that keeps your water moving while using the same amount of power as a 40-watt light bulb.
Fill Up, Plug in and Enjoy
Save time and money with our plug-n-play technology. No additional wiring required. Simply fill up your spa pool, plug it into any standard 240v, 10amp outlet (2kw heater) and enjoy!
Affordable
Stress relief, without stressing your wallet. Manufactured using a rotational molding process which reduces material and labour costs, making them more affordable than traditional, acrylic spa pools.
Energy Efficient
Each spa features full foam insulation to provide maximum efficiency and low monthly operating costs. The spas internal thermostat and full foam insulation and locking thermal cover will keep the water hot all the time, so it's always ready whenever your are.
Very Tough Unibody
Freeflow® Spas are incredibly durable because our manufacturing process produces a strong, yet lightweight unibody (one-piece) spa pool shell, eliminating the need for an internal support frame. By reducing material and labour costs, we bring you a premium spa pool experience at a more affordable price.
Ozone Ready
Enjoying fresh, clean spa water should be an everyday experience as a spa owner. The EverFresh™ Water Care System makes it simple to keep your water clear and clean, while reducing the need for chlorine. The ozone system comes standard on all Hot Spring Highlife® spas, and may be added to any Limelight® or Hot Spot® spa.
An essential element of the EverFresh™ water care system, it uses Corona Discharge cell technology to create a high concentration of ozone that works to neutralise contaminants and improves your spa pool water quality.
Additional features include simple and intuitive digital controls, a multi-colour underwater light, built-in icebuckets and an easily accessible top loading filter.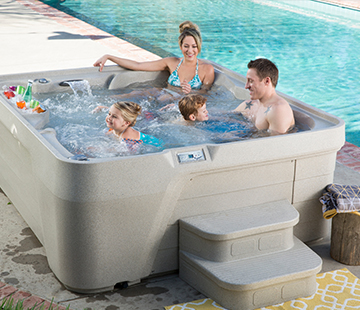 Hot & Ready Whenever, Wherever You Are
Renting? Moving? Or possibly redoing your backyard? No worries! Our lightweight portable Freeflow® spas can be taken with you and remain a part of your family wherever you go.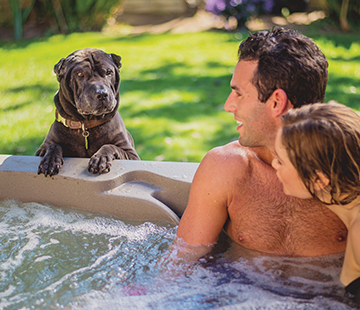 ISO 9001 Certified
Each spa is tested and certified under strict ISO 9001 standards before leaving our factory, so you can expect a top quality product from the time of delivery... and for years to come. Purchasing a spa pool from a Trade Certified manufacturer, means you have selected one of the most reputable spa manufactures in North America. You can rest assured knowing that you're getting one of the best performing spa pools on the market.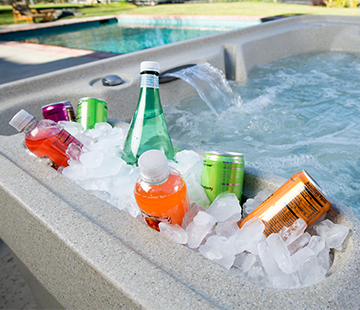 Built in Ice Bucket
Unique to this spa is a built-in ice bucket that holds your beverages of choice while you soak with yourself or friends.