Originally made as reconstructions of naturally occurring thermal baths and hot springs, hot tubs have come to represent the ultimate in style, leisure and luxury. Offering relaxation, therapy and fun, hot tubs are now more accessible than ever, becoming a familiar sight on decks and in backyards up and down New Zealand.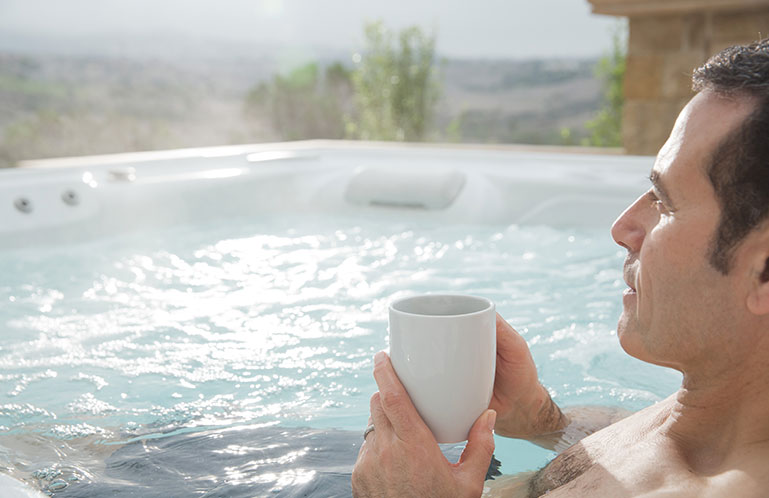 What is the difference between a hot tub and a hot spa?
For most people the words 'hot tub' and 'hot spa' are used interchangeably, as both refer to large baths of hot, jetted water. Tubs and spas do indeed look similar and perform similar functions, but there are differences between the two.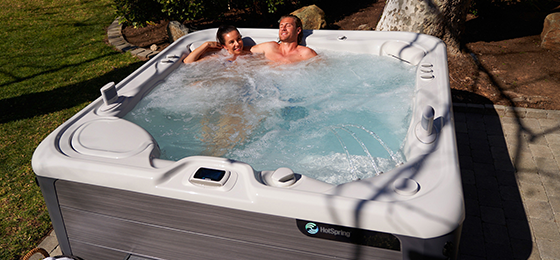 Hot tubs
Widely known as spa pools in New Zealand, are self-contained, portable units with their own plumbing and electrical control systems that offer relaxation and powerful hydrotherapy benefits.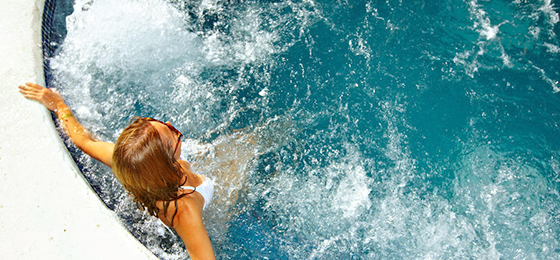 Hot spas
Hot spas are permanent installations similar to the spa baths often found in modern bathrooms or day spas. These are built more specifically for leisure, offering little in the way of hydrotherapy or health treatments.
What should I look for when buying a hot tub?
There are a number of considerations you should make when shopping for a hot tub including choosing a trusted dealer. Buying an established brand from a local dealer means you'll gain access to local advice and can repair rather than replace the spa if something goes wrong, years into the future. Here are other factors to take into account when buying a hot tub:

Size: How many people might use it at once?

Location: Where will it be installed? Is access quick and easy? Is there a power supply? Can the tub be easily filled and drained?
Objective: Why are you looking at a hot tub or spa? Reasons might include pain or stress management, enhancing health and wellness or spending more quality time with loved ones.

Quality: A high quality hot tub will be more energy efficient, last longer (with a warranty to prove it) and meet relevant safety standards.
Take the guesswork out of buying a hot tub. Download your FREE copy of our Hot Tub Buyer's Guide for step-by-step advice through the buying process.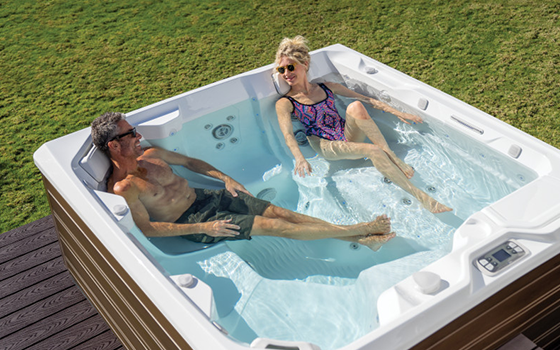 What's the best time of year to buy a hot tub?
The best time is any time! Unlike pools and conventional spas, which tend to attract a rush of buyers over summer, Hot Spring spas are designed to be used any time, making them popular year-round.
While hot tubs can be purchased online, it's important to note that what you see on your screen can be very different to what actually arrives. Shopping in store allows you to see, touch and even take a test soak in a potential tub!
What are hot tub shells made from?
Hot tub shells have two main functions: to keep the water in and to keep the water warm. Shells come in a variety of materials, each with its own strengths and weaknesses: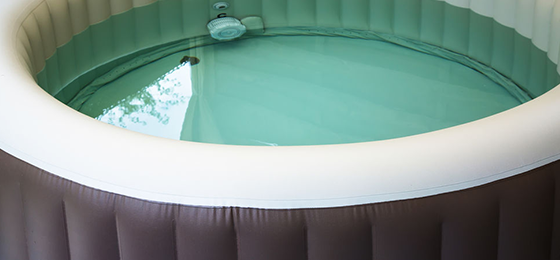 Vinyl
Used in most swimming pools, vinyl's cost-effectiveness makes it a cheaper choice for hot tubs too. It doesn't retain heat well, nor is it particularly durable.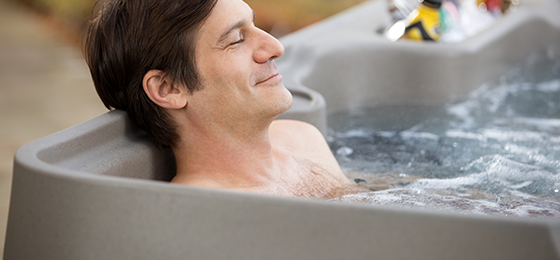 Rotomoulded plastic
This process sees plastic powder heated and spun in a mould. The result is lightweight, cost-effective and far more durable than vinyl.
Acrylic
The Rolls-Royce of hot tub plastics. Although you pay more for acrylic, you'll enjoy a spa that is both beautiful and durable. However, it is important to note that not all acrylic hot tubs are created equal.
Wood
There's no arguing that wood looks great, but you'll pay for the looks with endless maintenance, both on the inside and the outside of the tub.
Hot tubs can also be constructed from cement, stainless steel, fibreglass or inflatable PVC. These materials aren't as common, mostly due to inferior comfort and finish when compared to the plastics above.
How much does a hot tub cost to run?
The Hot Spring Spas Energy Calculator can tell you exactly that!
Hot tub running costs come down to one major factor: insulation. A bargain hot tub rarely stays a bargain for long, as a lack of insulation means inefficient heat retention, resulting in surprisingly high running costs – as much as $2,000 or more in electricity every year!
But don't just take our word for it – we are the only spa company whose spas have been independently lab tested, and we've published the results. We are proud to say that Hot Spring Spas create the most energy efficient spas in the world!
Can I put a hot tub on grass?
Placing a hot tub on grass is not recommended, as the weight (usually between 1.2 and 2.5 tonnes) may see the ground shift or sink, causing stress on the spa and voiding the warranty.
What is the average life of a hot tub?
The longevity of your hot tub will be determined by the quality of the tub, the conditions it is subject to and your care and maintenance efforts.
As a ballpark figure, a hot tub can be expected to last anywhere from five years to 20 or more. A high-quality, sheltered and well-maintained tub will last decades, while a cheap, exposed and neglected tub might struggle to even reach the five year mark.
This is an important fact to remember when shopping for hot tubs, as while a lower upfront cost might be tempting, you may need to replace the tub multiple times to match the extended life of a higher priced but higher quality unit.
Can I put a hot tub on my deck?
The following foundations are suitable for a standard spa:
A 100mm thick reinforced concrete pad

A deck built to New Zealand building standards
As swim spas can weigh up to 7 tonnes, we recommend that you get a qualified engineer to certify your deck before such a spa is installed.
Does a hot tub add value to a house?
A high-quality hot tub that is seamlessly integrated into the look and landscape of your property can add real value to your home. Even if your hot tub doesn't add to the bottom line of your property appraisal, it can still act as the X-factor that attracts potential buyers.
For the owners of holiday rental and Airbnb properties, a spa can be the sort of big ticket item that can see you attracting far more guests. The right choice will require minimal maintenance and operating costs. "Spas are a key reason people book holiday homes, especially during winter when skiing here in Queenstown" says Sarah McIlwrick, General Manager of luxury accommodation provider Relax It's Done.
Are hot tubs good for your health?
A hot tub is a tool that fits within the broader medical discipline of hydrotherapy. Warm water has been proven to soothe the human body in a number of different ways:

The heat widens blood vessels, assisting the flow of nutrient-rich blood through the body. A hot tub's directional jets can enhance this flow further.
The warmth can loosen tight muscles and reduce swelling.
The buoyancy takes weight off your joints, reducing wear and pain.
The ambience of a hot tub can help your mental state by easing stress and promoting relaxation.
"We recently bought a Hot Spring spa, the Flair model, and are very happy. We were very well looked after during the sales process, and more importantly with the delivery, installation and after sales service. The spa is high spec, perfect for our needs and getting much use. Thank you."
Tony Lund and family
Using our Hot Spring every day
"Delighted with the Matakana Spa we got from Hot Spring Spas. We ordered in mid-December and it was in place by mid-January, and we've hardly been out of it since! Big shout to our Hot Spring Spa expert for making the whole process so easy."
Ross Dickson
My little slice of luxury
"My Hot Spring Relay spa is hands down the best thing I have ever purchased. Not only is it great for our whole family, it is my little slice of luxury where I can enjoy peace and quiet at the end of a long day. The Hot Spring spas are the best quality out there – I wouldn't go for any other brand, they just don't live up to Hot Spring! The team are also very helpful with after sales care, so all in all it was an amazing experience with amazing service."
Angela Besant
Excellent customer care
"When things go wrong you really get the chance to see how much an organisation really cares. When we sprang a leak from our thoroughly loved Hot Spring spa these guys were right there."
Tim Soper
Explore Hot Spring range of hot tubs
Our best-selling hot tubs