The Endless Pools® X-Series Difference
Superior swim-in-place
experience 
Built with solid
and durable frames
To give you a genuine swimming experience the X-Series delivers stronger resistance and less turbulence than ordinary jetted swim spas. The design features four jets - three on top for resistance and a innovative River Jet that gives you increased lift accuracy and height adjustability creating a smooth, air-free current for superior low-impact, total-body exercise.
View the Range
Three Swim Jets and River Jet
With the SwimCross™ Exercise Systems, you can enjoy an authentic swim experience at an affordable price. Three round Swim Jets (on top) provide resistance, while the River Jet (below) provides lift. All jets use a boost effect to draw in more water, multiplying the volume. Using the two diverter valves, users can adjust the highly variable pace of the current for both swim and water workout options.
Stunning Exterior Cabinet
Stunning inside and out, the SwimCross™ Exercise Systems have a clean design that fits your lifestyle. Its beauty, versatility and advanced performance features make it a home enhancement you'll enjoy for years. Our 18.5 cm cabinet panels feature a finely brushed embossed texture, creating a backdrop for the 3D double contour bands that surround the entire Exercise System. The band plays with light and shadow to create a visual depth and interest to the siding.
Bluetooth-Enabled Sound System (Optional)
For exercise or backyard enjoyment, nothing sets the mood like our optional, integrated 8-speaker system and subwoofer. It's easy to set up: simply pair any Bluetooth-enabled device to the system through the control panel to listen to your favourite music anytime.
2 mm Steel Frame and ABS Base Pan
All Endless Pools SwimCross™ Exercise Systems feature a durable, two millimetre galvanised steel frame and ABS base pan, which together provide superior support and protection from ground contact. We're concerned with your experience for the life of your Exercise System ownership. We look deeper, creating great design that you can see as well as great design that quietly adds significant value.
Spa Seating with Hydromassage Jets
After you exercise, enjoy a workout cool-down in the comfort of spa seating where hydromassage jets soothe your muscles. Perfectly positioned in two captain's chairs with pillows, plus a third middle seat, four jet types are combined in three configurations to deliver an ideal post-workout relaxation experience.
SwimCross™ Exercise Systems by Endless Pools®
No crowds, no traffic, no wasted time.
Designed with your wellbeing in mind
The most recognised name in aquatic fitness, Endless Pools is the pioneer of swim-in-place technology. Tens of thousands of Endless Pools families worldwide, looking to improve their health and stay active, have trusted Endless Pools for the last 30 years.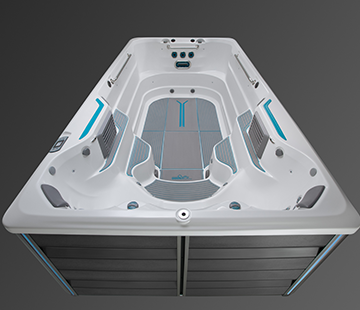 Shell Design
The Endless Pools Fitness Systems shell has a modern style with clean lines that flow gracefully from end to end. What makes this shell unique is how it is designed. There is ample space for your daily swim and workout, and water circulates with ease. It also looks stunning. When you immerse for your daily workout, entertain with friends, or just relax with the family, you want to enjoy a beautiful environment. We've taken that into consideration, and the result is a design that the most discriminating style enthusiast would embrace.
A Splash of Colour
Inside, the teal lines keep you centred in the swim lane. Outside, they elegantly accent the richer, organic tones.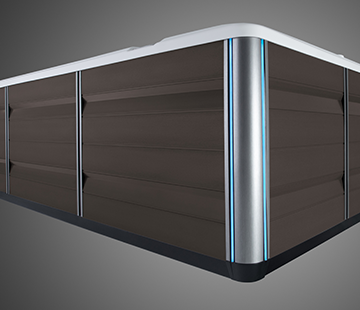 LED Illumination
Illuminate the night for a dramatic impact. The blue LED Perimeter Illumination beckons you to enjoy a relaxing dip after a long day while a 13cm main interior light and multi-colour LED points of light provide ample brilliance and beauty. The water feature is also backlit for added elegance.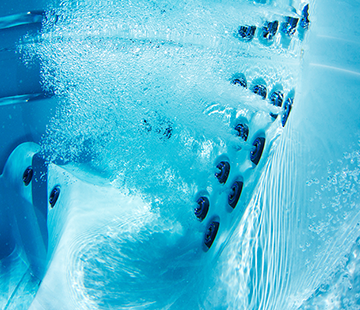 Hydromassage Spa Seating
Four distinctive hydromassage jets are perfectly positioned in two captain's chairs with pillows and a middle seat. Jet configurations are made up of mini, rotary, cluster, and directional jets that together target all areas of the back and legs, for an ideal cool down.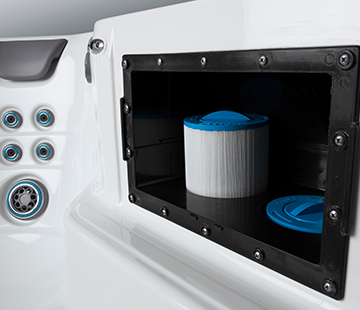 Water Management System
Water is kept crystal clear with fewer chemicals, using a dual-water purification system that combines Ultraviolet C (UVC) with eco-friendly CD Ozone. Water circulates through the UV + CD Ozone System using the hydromassage pump on low-speed.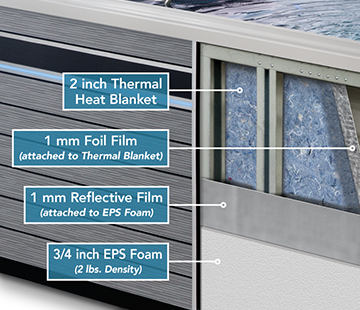 Tri-Thermic Barrier System
Three layers of insulation conserves heat, enhances energy efficiency and lowers operating costs. The Tri-Thermic™ Barrier System includes a 2 cm, 32 kg/m3 density expanded polystyrene foam and reflective film, combined with a 5 cm thick heat blanket and foil film.