The Highlife® Difference
Wireless Remote
Control Panel
100% No-Bypass
Filtration
Freshwater™ Salt
System Compatible
With over 40 years of innovation under its belt, the Highlife® Collection is the epitome of spa indulgence. In this exclusive collection, we bring a host of exclusive features that ensure you'll find a spa pool that not only suits, but exceeds your needs. With a combination of unique hydrotherapy massage options, simple ongoing water care and energy efficient operation, you'll be spoiled for choice. Choose from nine spa models within the collection and six cabinet finishes to match your individual style.
Get a quote
Visually Stunning
When done right, great design enhances your experience. Each model in the Highlife Collection represents the culmination of our more than 40 years of design and engineering advancements with beauty, form and function you'll only find from Hot Spring.
The Highlife® Collection takes beauty to a new level with a distinctive colour palette and exquisite styling. Unique cabinet design and thoughtfully sculpted shells create a look that's more like furniture than a spa pool. A waterfall-like detail on the corners cascades from the shell to the base, integrating the surfaces. It all works together to create a beautiful focal point in your space. Clean lines, rich finishes and durable materials all work together in harmony to create a unique look that both inspires and endures. Combine those with a variety of designer-selected shell colour combinations and you can create a look that's just right for you, from traditional to cutting-edge contemporary.
A Hydromassage That Cannot Be Beat
More than 30 years ago, we patented the very first moving hydrotherapy jet. Today, there's still nothing like our Moto-Massage® DX jet in the New Zealand market. Exclusive to the Highlife® Collection, two powerful streams of water move up and down the entire length of your back in a sweeping motion, melting tension and soreness away.
Four Precision® jets positioned above every Moto-Massage DX jet massage your neck and shoulders. Together, these jets work in harmony for an unparalleled hydrotherapy experience.
FreshWater™ Salt System
Your time is too valuable to spend it fussing with spa pool chemicals. The FreshWater™ Salt System is a breakthrough innovation that takes the guesswork out of keeping water clean, so you can spend more time enjoying your spa.
The spa pool water is sanitised with a titanium cartridge that automatically generates chlorine from salt. Simply set the chlorine output level with the touch of a button. The system operates through the spa pool's main control panel. Easy-to-read, on-screen messages take out the guesswork by showing you how everything is working and what adjustments might be needed.
Watch Now to Learn More ›
Built For Years of Use
Underneath that beautiful exterior is a sturdy, polymeric substructure and base pan for durability and long life. It will never rust or rot. The sides of the base pan are elevated to create a barrier to the elements. It also gives the spa pool it's unique floating effect, which is made extra special with under-cabinet accent lighting.
Watch Now to Learn More ›
High-Density Foam Insulation
Full foam insulation, the same material found in commercial freezers is applied in multiple layers of varying density to maximise energy efficiency. This exclusive technique helps eliminate gaps and voids in the foam that can increase energy efficiency and running costs low.
More on Energy Efficiency ›
100% No-Bypass Water Filtration
All the water in your Highlife Collection spa pool is filtered all the time. In other spas pools, water bypasses the filters when the jets are on, which is when you need filtered water the most. Depending on spa size, each model includes up to five filters and enables all the water to pass through the filters, even when the jets are running.
Our Tri-X™ filters use exclusive three-dimensional technology to filter more water than paper filters, which makes them an important part of our 100% no-bypass filtration system. This design provides more effective filtration area compared to any paper filter of the same size, so they don't require cleaning as often. When needed, you can place them in the dishwasher to be cleaned.
Learn More ›
Silent Flo™ Circulation
A dedicated pump continuously circulates spa pool water 24 hours a day and uses less energy than a 40-watt light bulb. This eliminates the need to rely on high powered jet pumps to circulate spa water, reducing energy costs and wear on important spa pool components.
Warm or Cool? It's Your Choice
On a cool, crisp night, there's nothing like relaxing in your spa pool with soothing warm water swirling around you. On a hot and sunny day, however a cool refreshing dip can be just as inviting. With the CoolZone™ Hot Tub Cooling System, your hot tub can heat and cool the water - something that is not possible with most spa pools. As a result, you and your family will be able to use your spa pool more often throughout the year.
Advanced Controls, Simple Operation
With advanced and intuitive controls our Highlife® Collection spas are easy to operate with a unique wireless touchscreen spa control that operates spa functions and settings from anywhere, up to 30 feet away.
The large waterproof, colour LCD touchscreen serves up intuitive icons and menus that are easy to read day or night. It also provides you with easy-to-read message that advises how your spa pool is operating. Taking the guesswork out of spa pool ownership.
Watch Now to Learn More ›
Wireless Entertainment
Wireless entertainment adds another layer of enjoyment to your spa pool ownership experience. You can add these dealer-installed options at any time.
Bluetooth® Technology
Stream music and view from an online source or use your own library. The choice is yours with our easy-to-use system featuring Bluetooth wireless technology delivering the ultimate listening experience while soaking.
High-Quality Sound
The sound system features a powerful amplifier and optional subwoofer, on some models for increased volume and richer bass tones. Marine-grade speakers can be installed in the bar top. Enjoy audio from inside or outside your spa pool with these durable pop-up speakers.
Welcome to the Highlife
Features & Highlights
The new Highlife Collection redefines how a spa pool can look. Comfortable, sculpted seating and stylish design details work together to create a design that's more like furniture than a spa pool.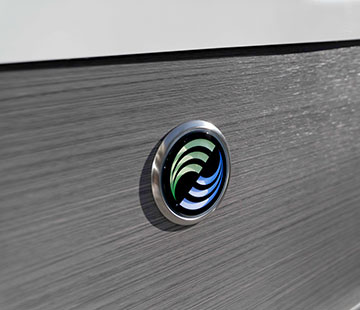 Ready, Set, Soak
Be confident that your Hot Spring® spa is hot and ready before you even step outside. The On/Ready indicator lights in the Hot Spring logo can be seen even with the spa cover on. These lights also serve as a helpful diagnostic tool letting you know when your spa needs attention.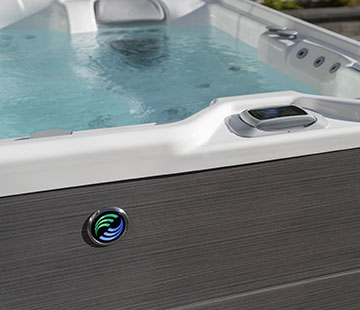 Strikingly Beautiful
Bold, yet elegant. Fresh, Yet Timeless. Graceful, Yet Powerful. The Highlife® Collection redefines how a hot tub looks. Elegantly contoured corners reveal accent lights that beckon you closer. Stainless steel and brushed metal finishes add richness and refinement. Clean lines, rich finishes and durable materials all work together in harmony to create a unique look that both inspires and endures.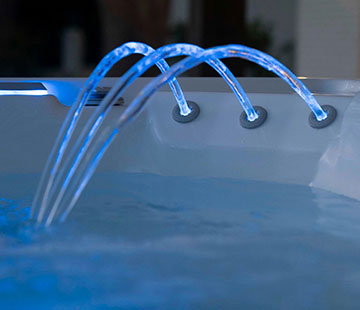 Water Dances
Enhance your spa pool experience with the sights and sounds of the exclusive BellaFontana™ water feature. Three colourful backlit arcs of water converge to create this elegant fountain that you will enjoy from inside or outside your spa. Included on most Highlife Collection models.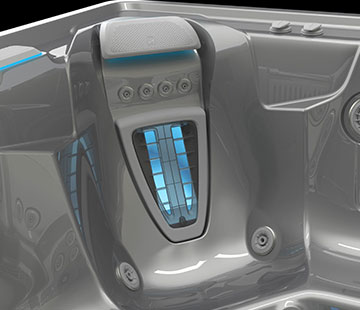 Unique Massage
One of a kind Moto-Massage® DX moving jets provide two powerful water streams that sweep up and down your back. But what makes Hot Spring® Spas special is our 40-plus years of hydrotherapy expertise. The result is a distinctive jetting experience with the right amount of pressure and massage targeted for different muscle groups.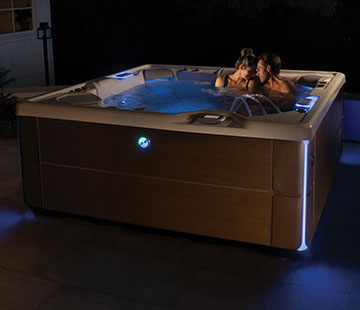 Super Energy Efficient
Your spa will be there - hot and ready - when you need it. Our Comprehensive Energy Smart® system uses a series of innovations to keep spa water at your desired temperature while keeping energy costs to a minimum.