Like Hoover, Band-Aid and Post-It, Jacuzzi® is a brand that has grown to be so synonymous with a particular product that it has become its own generic term, or eponym. This can leave both a buyer and a seller confused: when you ask for a Jacuzzi®, what are you actually asking for? A specific brand? A certain product? Any and every spa pool?

What is the difference between a Jacuzzi® and a spa pool?
In reality, Jacuzzi® is a brand name that is often used as a generic term. Popular culture has seen 'jacuzzi' transform into a word that describes any spa pool or US 'hot tub', whether in or above ground, jetted or not.
The name comes from the Jacuzzi brothers, who in 1956 invented the first hydrotherapy jet designed specifically for bathtubs. The US-based Jacuzzi® brand is still going strong today, and continues to sell the jetted bathtubs and hot tubs that it has become famous for.
So when you ask for a Jacuzzi®, a salesperson may assume that you're talking specifically about the Jacuzzi® brand. It's important to remember that not every spa pool, hot tub or jetted bathtub is a Jacuzzi® product. In fact, most aren't!
What should I look for when buying a spa pool / Jacuzzi®?
The decision to buy a spa pool is an exciting one as thoughts turn to days relaxing and nights entertaining. There are some important considerations when choosing your perfect spa pool.
Identify its purpose: Are you buying a spa for relaxation and stress reduction, for socialising, to manage pain, to enhance your health and wellness, to spend more time with loved ones or all of the above?
Find the perfect size: How many people might use the spa pool at the same time? How much room do you have in your backyard? Would you prefer a swim spa?
Choose where to put it: Where do you have room? Which areas offer an appropriate foundation? Do you have access to the necessary water, power and drainage? Is there quick and easy access to make sure you get maximum use?
Calculate costs: We're not just talking upfront price. How much does the spa pool cost to run? How long is it expected to last? Can it be easily maintained? Can parts be replaced?
Choose safety and quality: When the costs mentioned above are known, a high-quality spa pool will usually prove far cheaper in the long run.

Local service and support: Choose a local dealer of quality spas for added knowledge and support.
For a complete rundown of the factors that go into a perfect spa purchase, download the Hot Spring Spa Buyers Guide.
The benefits of a Jacuzzi® / spa pool
There's something satisfying about hot water immersion that most people can't put their finger on. Thankfully science can. Amongst other things, you'll enjoy:
Improved blood flow

Lower stress levels

Better sleep
On top of these benefits, spa pools and swim spas can offer hydrotherapy to manage and reduce chronic pain, fitness to keep your body in top condition and fun with your family and friends!
How to choose the right Jacuzzi® / spa pool
When choosing the right spa pool for you, it's important to not only consider the in-spa experience, but also the out-of-spa ownership experience. Be sure to consider:
Reliability:

A good spa pool will have a proven track record of performance, will be built by a trusted brand and will come with a generous warranty.

Local knowledge:

Buying local makes maintenance and repair easy, and ensures that you get the best advice about caring for your spa pool.
At Hot Spring, we aim to offer our customers the best spa pool ownership experience possible. Our spa pools feature precise craftsmanship, rigorous quality control and testing, market-leading features and extensive warranties. We make sure that our customers enjoy all the perks of owning a spa pool and experience none of the pitfalls.
The cost of a Jacuzzi® / spa pool
Unlike normal pools, which incur endless additional costs (engineering reports, stabilisation, council consent, excavation, landscaping, and pool fencing, to name just a few), spa pools are generally far less expensive to install.
The installation of your spa pool can cost as little as $0 or as much as $2000+. Factors such as size, weight, brand, electrical requirements, water requirements and accessibility will all play their part in deciding the cost of installation.
Unlike other spa pool suppliers, we at Hot Spring ensure that our customers avoid the mistakes that many buyers make. Will there be additional installation costs? Is pre-wiring, foundation work or crane hire needed? We help you to do your homework first; identifying the best spa pool for your situation and understanding any costs that may apply in installing it.
Click here for a quote or contact your local dealer to arrange a test swim!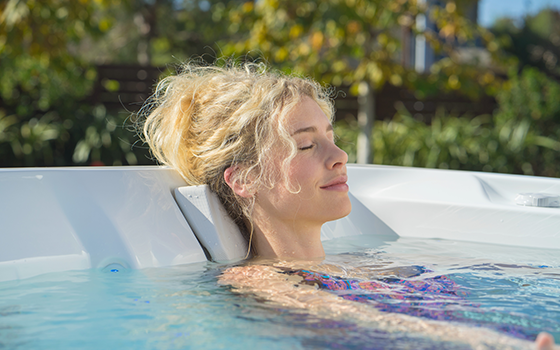 How long can you stay in a Jacuzzi® / spa pool?
Soaking for as little as 10 minutes per day is enough for a spa pool owner to reap the benefits of hot water immersion and experience the relief that buoyancy offers to the circulatory system and aching joints and muscles.
The maximum length of your soak is your personal preference and will depend on water temperature. If you set the temperature to 37­°C – the same as the human body – you can safely soak for as long as you'd like. Temperatures above that mark may eventually result in overheating and dehydration so be careful. It's as simple as listening to your body and following its lead! If you're looking to enjoy a few extra minutes, soaking without the jets on may serve to extend your stay.