Hot Spring® Spas are cemented as leaders in exceptional spa innovation, delivering the ultimate spa experience with the most efficient and luxurious features on the market.
Our ACE® Salt Water System has stood at the forefront as the diamond standard in spa water treatment, allowing for smarter cleaning and fewer harsh chemicals through our advanced oxidation system. The ACE Salt Water System gave spa owners a more natural swim spa experience with fewer of the harsh chemicals used in competing spa brands. This difference left our customers with softer skin, less cleaning and a more luxurious experience. However at Hot Spring®, we're dedicated to our promise of "every day made better." That's why we wanted to take the innovation of the ACE Salt Water System one step further.


FreshWater™ Salt System - The best spa water possible
Through extensive research and development, the ACE Salt Water System has evolved to our latest spa innovation which keeps your water cleaner for longer, saving you time and money while providing you with the healthiest spa experience possible. Dedicated to delivering the ultimate in spa technology, health and efficiency, Hot Spring Spas® have gone one step further with the introduction of our FreshWater™ Salt System, delivering customers a new and improved spa experience. While the ACE Salt Water System only required owners to clean their cell every 90 days with minimal maintenance in between, our customers tell us that what they value in a spa is minimal water care. This is the thing we're most proud of in the FreshWater™ Salt System.
Our FreshWater™ Salt System spa will keep water naturally clean for up to a full year at a time while only using as much chlorine as you'd find in tap water.
That's right, 12 months of clean water so minimal time spent on water care and more time spent relaxing with the people you love. Not only does this save you a headache, it saves you money. It also allows you to spend more time in the spa than maintaining your spa.
24/7 Experience without the hassle
A FreshWater™ Salt System spa maintains its heat andis ready to use 24/7. Power usage is up to 6 times less when compared to bromine salt system spas. This means that your whole family can jump in whenever they like, without waiting for the spa to heat up or worrying about power costs.
At Hot Spring, we want to make spas that help our customers to save water without compromising on the luxurious experience of using a spa.

The Hot Spring Spas FreshWater™ Salt System, is the closest-to-natural salt water system on the market and has been tried and tested for over a decade. It provides a unique spa pool experience without the harsh chemicals. It makes our hot tubs the simplest to maintain with an easy-to-use operation system requiring only minimal maintenance.
Top 4 benefits of the FreshWater™ Salt System VS others on the market
1. Simple to operate, user-friendly integrated system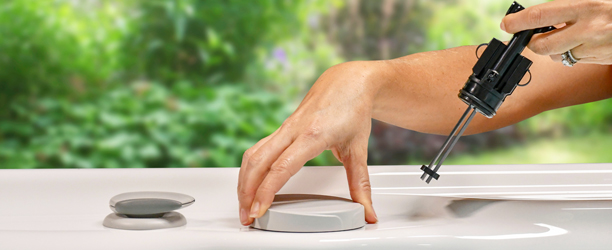 Previously, the leading technology in salt water spa was a stand-alone bromine system that could be retrofitted into any spa make or model. The result was a clunky, complicated system that was time consuming, expensive and difficult. The system sat inside the equipment compartment of the spa, making maintenance complicated and tedious. This created additional hassle, which meant more time and money spent on your spa.
The FreshWater™ Salt System has changed all that and features a fully-integrated, user-friendly operation system automated notification reminders within the spa control panel. This eliminates the need for two operating systems in salt water spas. Now you have just one easy to use system, simplifying the experience of a salt water hot tub. Nothing ruins the "natural" feeling like a bunch of time-wasting expensive equipment, maintenance and spa technician callouts. It is now less expensive to run and saves you time. Everything you need can be accessed on your spa control panel, so you don't have to pay out regular maintenance costs and technician call outs.
2. Fewer chemicals, safer for your family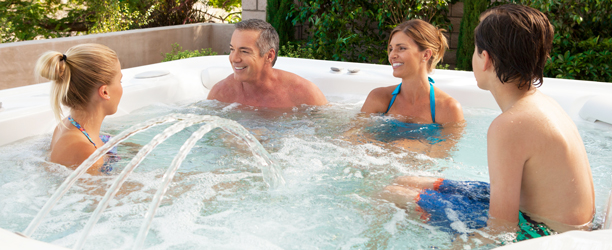 The use of bromine in an automated sanitation system is banned in certain countries as well as certain US states. To be effective in cleaning your spa, a bromine system requires up to a staggering five times more chemicals than the new FreshWater™ Salt System. The chemicals in bromine spas are harsh on the skin and leave the user with dry, itchy skin and sore eyes. The odour emitted requires users to take a shower after a spa. To prevent our customers experiencing this, we use pharmaceutical grade salt free from fillers and other additives that are harmful to important spa parts.
To us, this spa experience was not what we wanted it to be. Our goal was a spa experience as close to nature as possible, with lower levels of chemicals, low odour and no need to shower following your spa. New Zealand has many beautiful hot springs, and with a name like Hot Spring, that's the experience we want to deliver. Because of that, we're proud to say that the level of chemicals in our spas is similar to that in drinking water*. Our customers now get much less of the harmful chemical after-effects found in bromine systems, such as dry and itchy skin and eyes. After a spa people feel clean, refreshed and healthy. This is what we want as the spa experience.


3. Less maintenance - more time to enjoy your spa pool
Bromine spas only work when the circulation pump is in operation. Many owners reduce their pump hours in an effort to minimise operating costs and to save on the life of their circulation pump. The result is that their spas are not sanitising for the complete 24 hours as they should – they may be operating for 6 hours at best. This defeats the purpose of the sanitisation system and the difference is obvious.
Even when bromine spas are run 24 hours a day as they should, they use a massive six times more power than a Hot Spring® Spa FreshWater™ Salt System. The pure efficiency of the Hot Spring Spa system means 24-hour operation with lower power costs, leading to a healthier spa experience without a hit to the pocket.
The FreshWater™ Salt System does it all for you, with an integrated system running 24/7 with innovative technology that keeps your pool cleaner, for longer, for cheaper. You simply replace the disposable cartridge on the bar top three times a year. No messy maintenance, no call-outs, just a simple twist and replace.
The patented custom design of the FreshWater™ Salt System makes our cartridge easily identifiable and simple to replace. This eliminates the need for a technician every time your cell needs replacing. You can spend more time doing the things you love with the people you love.
4. Cost neutral over the life of your spa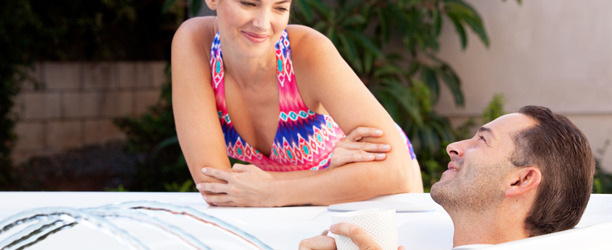 We understand the cost of spa maintenance is an important factor when considering your next spa purchase. That is why the FreshWater™ Salt System is cost neutral when compared to bottled chemicals and other salt systems on the market.
If you are in the market for a new spa, the FreshWater™ Salt System is the way to go if you are looking for a more natural spa pool experience with simple operation and less ongoing maintenance. The new FreshWater™ Salt System is available on all Highlife® Collection and Limelight® Collection spas.
For more information, contact your local Hot Spring dealer to give you a demonstration on the FreshWater™ Salt System and the benefits.