If you're dreaming about purchasing a spa pool, then you may be wondering where to put it. Keeping it in the backyard might be a more appealing option than trying to fit it somewhere in the house. But how easy is it to keep a spa pool outside?
It is possible to put a spa pool in your backyard. There are a variety of spa pool models made for outdoor use, some that can be used both indoors and outdoors and some that are specifically for indoor use. Be sure to do your research before purchasing your spa pool for your backyard.
There are many benefits to having a spa pool in the backyard and it is the ultimate choice for many spa pool owners. There are some important considerations which may have been obvious to you but others that aren't so apparent, so we break it down for you to make informed choices and get the most from your experience, without all the headaches.

Can all spa pools be outside?
There is a range of spa pool models that can be used both inside and outside, but some models are specifically suited for either one or the other. For this reason, be aware of your chosen spa pool's specifications and make sure it is outfitted for the particular conditions wherever you decide to keep it.

There are several spa features that you can consider when shopping for an outdoor spa to help increase the life of your spa against external elements such as:
Acrylic shells are robust and give you peace of mind on your investment - see the

types of spa pool shells that exist on the market

and why acrylic is the best option

Few cabinets are still made of wood, but most high-quality cabinets, including Everwood cabinets available from our Hot Spring range, are now constructed of durable synthetic materials that do not rot.

Marine grade lockable spa cover

designed to increase the life of your spa cover
Some people place an outdoor spa pool under a garden shelter, adding to the protection of the tub and reducing its exposure to the elements. It's also important for your spa pool to have a sturdy base, such as a slab of concrete or other such flat foundations underneath it for appropriate support.

Why should you put a spa pool in the garden?
If you have the space, installing a spa pool in your backyard, surrounded by nature, can create a breathtaking environment which would be difficult to replicate with an indoor spa pool. If you prefer to relax in the open and breathe fresh air, listen to birds and wildlife, or even watch the clouds or the stars at night, a backyard spa pool can make for a magical experience. Likewise, enjoying a soak under snowfall or raindrops can be a unique and nourishing respite. A spa pool in the backyard is also a great addition for entertaining friends and family over for a backyard barbecue.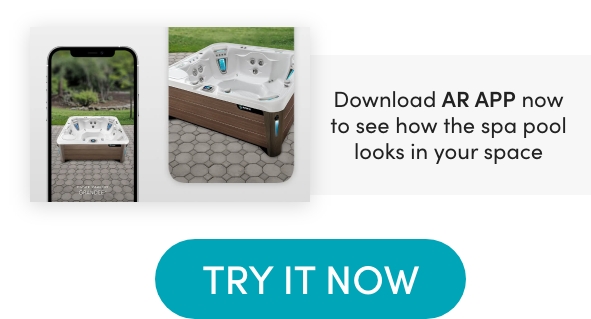 Is council consent needed?
Installation of pools and spas may require local body approval and may vary from region to region. It is the responsibility of the purchaser to check with relevant local body authorities for further information.
Where is the best place to put a spa pool in my backyard?
Once you have decided to have an outdoor spa pool, you need to make sure you have a suitable location for the spa pool, and that your deck, patio, or fence are planned and underway. Double check measurements of your available space and dimensions of your desired spa pool before purchasing is always recommended.
Provided it has a good foundation or structural integrity, you can put your spa pool anywhere you want in the garden: on the deck, patio, under a gazebo, or even on a rooftop entertaining space. Hot Spring offers white glove delivery and installation service, which makes the entire process less stressful, but you do have other options.
We drop your new spa pool at a depot from which you would pick up the product yourself.

We arrange curbside drop off to the address you provide.

Full installation and delivery
The first 2 options can appear to be a better choice due to the initial cost savings. However, we highly recommend you select option 3 for a care-free spa pool ownership experience. Hot spring offers this white glove delivery service by a qualified and experienced team with little to no reliance on third-party delivery contractors. Our sales team will also help manage the process from start to finish to give our customers the best experience and peace of mind.
To discuss where to put your new spa pool and request a virtual pre-site inspection, please contact us today or visit a local dealer.

* Installation of pools and spas may require local body approval and may vary from region to region. It is the responsibility of the spa or pool owner to check the latest regulations with their local council.