Spa Pools Christchurch
Located in Ferrymead, Wright Hot Spring Spas in Christchurch showcases a wide range of Hot Spring® Spas and Endless Pools® Swim Spas in their premium showroom. Why not take a test swim? Get in touch today, we'd love to hear from you.
Wright Hot Spring Spas – Ferrymead
1004 Ferry Road, Ferrymead, 8023, Christchurch, New Zealand
Opening Hours
***NORMAL STORE TRADING HOURS*** Please check Google for the most updated hours.
Saturday & Sunday: 10:00am - 4:00pm
Monday - Friday: 9:00am - 5:00pm
About Spa Pools Christchurch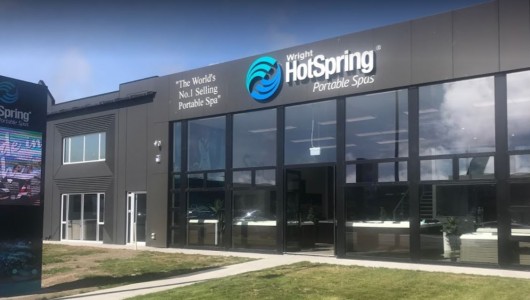 If you're interested in seeing, touching and maybe even testing a spa pool or swim spa, the Hot Spring team is ready to make it happen. With Hot Spring dealerships found up and down the country, spa life is often just a short drive away!
At Wright Hot Spring Spas in Christchurch, our team of experts will help you find the spa pool that best suits your needs, and can talk you through the entire spa ownership experience, from installation and maintenance to selling or trading up. We'd love to hear from you, so get in touch today for a test soak!
Experience & team
Established in the early 80s, Wright Hot Spring Spas has long been Christchurch's most trusted spa pool dealership. In 2004 brothers Matt and Jeff Lowe took the business over, and have spent the ensuing years growing, developing and enhancing the Wright Hot Spring brand.
After decades supplying Hot Spring spas and Endless Pools® swim spas to Kiwi homes throughout Canterbury and the South Island, the Wright team has developed deep local knowledge and expertise. Whether you're searching for the right spa pool for your home, bach living or Airbnb, or you want advice on how to keep your power bill down or your water soft and fresh, Wright Hot Spring Spas has you covered.
Found in Christchurch, at Wright Hot Spring Spas you're free to browse an extensive range of pool and swim spas in fresh and modern showrooms. And if you're keen to jump in, not a problem – simply call the team to book a test soak!
How long have they been located there?
Wright Hot Spring Spas can be found at 1004 Ferry Road, Ferrymead, Christchurch, situated on the Heathcote River and directly opposite Westpac bank.
Ferrymead is one of two Wright Hot Spring Spas stores in Christchurch, the other being in Hornby.
Local transport
Wright Hot Spring Spas is a short bus ride from the centre of Christchurch, taking as little as 20 minutes. The 140, 155 and Airport buses stop right outside the door! Head to the Metro website for more information.
Parking
Parking is available at the rear of the Ferrymead store – simply drive down the alley on the right hand side of the building to reach the on-site car park.
Services Offered
Backyard Consultation
We can meet with you to determine the best location for a spa pool in your yard.
Delivery Available
We can deliver your new spa pool right to your backyard.
Service Department
We're here to assist you after you purchase your spa pool.
Test Soak
Arrange a time to come in and give one of our hot tubs a try.
Watercare Analysis
We'll help you make sure your spa pool has the cleanest water possible.