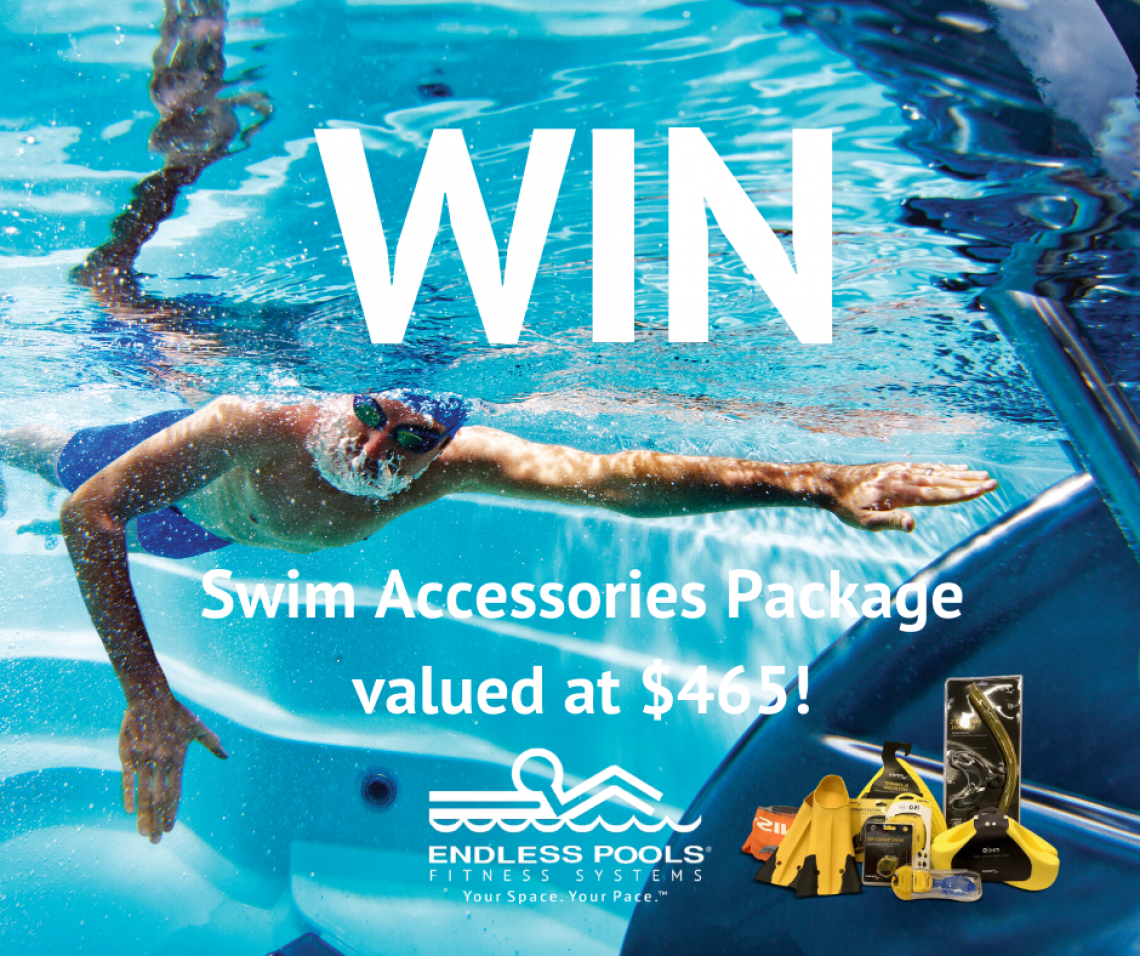 Trial the Endless Pool® Modular for your chance to WIN!
Endless Pools® Fitness Systems are proud sponsors of the Banana Boat New Zealand Ocean Swim Series for 2019/20 season. To celebrate our sponsorship we're offering the chance for anyone who trails the Endless Pool Modular Pool at the 7 events across New Zealand the chance to WIN this ultimate Swim Accessories Package!
Full Competition Terms & Conditions
1. The competition prize is for the ultimate Swim Accessories Package valued at $465 – the package includes the following items: 1x Finis Swim Communicator, 1x Finis Center-Mount Snorkel, 1x Finis Agility Paddles, 1x Finis Instinct Sculling Paddles, 1x Finis Tempo Trainer, 1x Finis Foam Pool Buoy, 1x Finis Energy Goggles, 1x Finis Mesh Gear Bag, 1x Z2 Gold Zoomers (sizing) – Size F will be included and can be swapped out for accurate size.
2. Entry is restricted to New Zealand residents, 18 years of age or older. To be eligible to enter the competition all participants must enter via taking a test swim in the Endless Pools® Modular Pool at the Banana Boat New Zealand Swim Series events from 7 Dec 2019 to 25 April 2020.
3. To enter competition, participants must complete the online entry form provided by Endless Pools® team members at the Banana Boat New Zealand Swim Series 2019/20.
4. Enter as many times as you like. Staff, their immediate families and agents of Endless Pools® and any related companies are not eligible to enter the competition.
5. The competition will close at 26 April 2020 at 12:01am and winner will be drawn at random via a unique number generator.
6. The winner will be notified by email. If three reasonable attempts to contact a winner have been made and that winner is still unavailable, the prize will be forfeited and a new winner will be drawn. The competition prize winner will be published on Endless Pools® Facebook page: https://www.facebook.com/EndlessSwimSpasFitnessSystemsNZ/ and elsewhere at the discretion of Endless Pools®.
7. The promoter is Endless Pools® Fitness Systems which is a brand of Hot Spring Spas NZ Ltd. The promoter's decision is final and no correspondence will be entered in to. The prize is not transferable or redeemable for cash under any circumstances. If for any reason the prizes become unavailable, the promoter may substitute an alternative equivalent prize without notice. The promoters may change, extend, amend or cancel the competition and its terms at any time at their sole discretion.
8. The information that you provide to enter this competition will be held by Hot Spring Spas NZ Ltd and will be used for the purposes of administering the competition. You have the right to access and request correction of this information.
9. The competition promoters shall not be liable for any costs, expenses, loss, damage, personal injury or death whatsoever (including but not limited to indirect or consequential loss) which is suffered or sustained arising out of or in connection with the competition, the taking or using of a prize, or any act or omission (whether negligent or not) of the Promoters or any of their associated agencies, except for any liability which cannot be excluded by law.
10. By claiming a prize, the winner consents to Hot Spring Spas NZ Ltd making use of their name(s) and/or photograph(s) for publicity purposes as determined by Promoters (such as via its social media channels).
11. The promoters assume no responsibility for any failure to receive an entry as a direct or indirect result of a technical problem of any kind of internet malfunction. Entries are deemed to have been received at the time of receipt of transmission into the website database, not the time of transmission by the entrant.
12. All entries become the property of Hot Spring Spas NZ Ltd.
13. Incomprehensible or incomplete entries and any entry that does not comply with these terms and conditions shall be deemed invalid.
14. Where goods or services are supplied by third parties, the promoters do not warrant the quality of those goods and/or services or the suitability for your circumstances.
15. The promoter's decisions on all matters regarding the competition are final and no correspondence will be entered into.
16. The prize will be posted after 1 May 2020 when the 7 swim events have taken place.
17. This competition is not sponsored, endorsed or administered by or associated with Facebook and Instagram.